China and Cambodia Vow to Take Action Against Those Politicizing COVID-19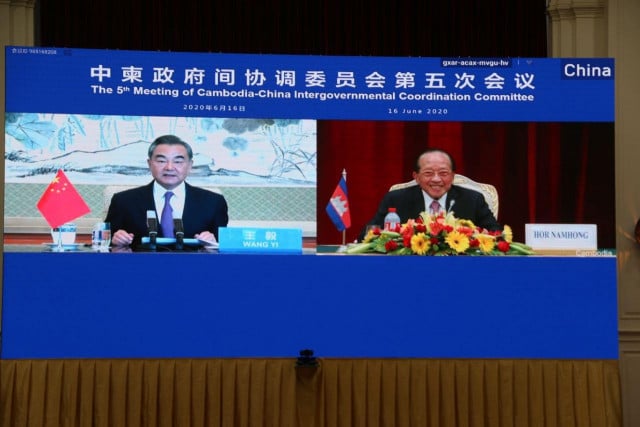 Phoung Vantha
June 17, 2020 5:26 AM
Following a video conference between Deputy Prime Minister Hor Nam Hong and Chinese Foreign Minister Wang Yi, the two countries said they would act against attempts to politicize the virus.

PHNOM PENH--Cambodia and China have announced the two countries will take their relationship "to a new stage" as Deputy Prime Minister Hor Nam Hong held a video conference with China's Foreign Minister, Wang Yi on June 16. Both Wang and Hong recognized the universal threat of Coronavirus Disease 2019 (COVID-19) and discussed new means of cooperation to combat the deadly pandemic.

However, in a social media post from the Chinese Embassy in Cambodia dated June 16, to two representatives went on to denounce those who they deemed as attempting to politicize the pandemic, even going so far as to say that China and Cambodia should "act against those who make the virus political to color other countries."

While the embassy did not specify what action the two countries are threatening, nor precisely who it is accusing of politicizing COVID-19, both countries have been criticized on the international stage for the repressive control of information—particularly at a time when timely and accurate information could save lives.

China was rankled by the international call for an independent investigation into the origins of the COVID-19 pandemic, but eventually capitulated in May 2020 with President Xi Jinping agreeing to allow an international investigation. Similarly, Cambodia has drawn the ire of rights groups both at home and abroad for rushing through legislation pertaining to government powers in a state of emergency that raised concerns over further crackdowns on freedom of speech.

Wang and Hong agreed that COVID-19 was a major challenge for humanity—one that requires global unity and support for institutions like the World Health Organization to build stronger public health mechanisms, according to the Chinese Embassy in Cambodia.

Cambodia said that one more patient has recovered, according to the Ministry of Health's statement issued on June 17. So far, Cambodia has confirmed 128 cases of COVID-19, with 126 have recovered. China, where the virus is believed to have originated, has recorded 83,265 cases of COVID-19 with 4,634 deaths and 78,379 recoveries as of June 17. Globally, more than 8.2 million infections have been identified, claiming the lives of 446,135 people at press time.

The embassy also said on its Facebook page that the two sides have now signed a memorandum of understanding aimed at enhancing the duties of the Inter-governmental Coordinating Committee between China and Cambodia during COVID-19.

Wang Yi said that implementing a comprehensive plan of community building towards the common destiny between China and Cambodia has pushed the two countries' relationship to a new stage.

"After the COVID-19 outbreak, China and Cambodia have supported each other, strengthened friendship made the tradition friendship even stronger," he said

He continued that China is willing to continue to strengthen the relations under the spirit of East Asia, Mekong-Lanchang cooperation, and other areas with Cambodia.

This comes at a time when many observers have expressed concern about Cambodia's increasing reliance on China, who in 2019 provided some $3.5 billion to Cambodia in foreign direct investment—making China by far the largest benefactor of Cambodia. Prime Minister Hun Sen has gone to great lengths to deny that he is leading the country into a "debt trap" and has vehemently refuted the number of claims that China is encroaching on Cambodia's sovereignty by installing a naval base in Preah Sihanouk province.

Cambodian Deputy Prime Minister Hor Nam Hong said that Cambodia will remember in its heart all of the support that China has provided, saying that this only helps Cambodia.

Cambodia will continue with the implementation of the plan of communal destiny, which he said is fully supported by both countries' leaders, and together Cambodia and China's bilateral relationship will become deeper and more tangible. He did not elaborate on this, but did note that Cambodia's firmly supports China's imposition of national security legislation in Hong Kong.

"The Cambodian supports multilateralism, supports China-ASEAN cooperation and strongly opposes unilateralism and protectionism," said Hong.

"On behalf of the Royal Government of Cambodia, we thank the Chinese Government and the Chinese people for their generous non-refundable loans, technical assistance and investment in Cambodia," he said.

Both countries also announced to the establishment of a "Fast Lane for Personnel Exchanges" focused on inter-team communication and a "Green Channel for Commodities" for goods and agreed to complete the negotiation of the China-Cambodia bilateral Free Trade Agreement as soon as possible.


Related Articles