China Backs Plan for Language Teaching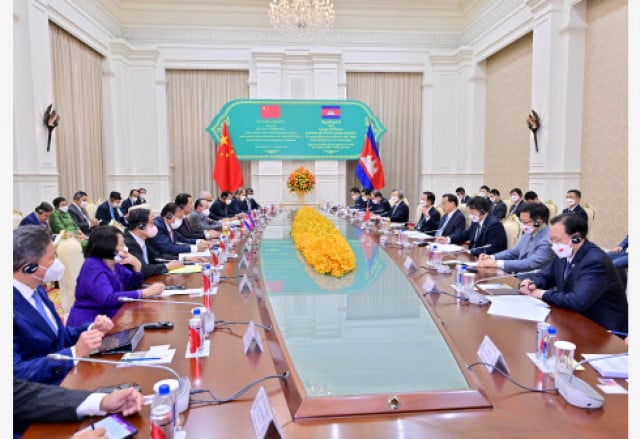 PHNOM PENH – Cambodia and China have reached an agreement under which the Chinese language will be included in the curriculum of secondary-level public school students in Cambodia.
Cambodia's PM Hun Sen, representing Education Minister Hang Chuon Naron, and China's Premier Li Kexiang signed the Memorandum of Understanding in Phnom Penh on Nov. 9.
The agreement will affect students from grades seven to 12 and was one of 18 documents on which both leaders exchanged signatures during the premier's official visit in Cambodia.
Education Ministry spokesperson Ros Soveacha said the establishment date will be announced in the future and that the countries' education ministries will discuss technical details.
The agreement will establish a pilot Chinese language program in 20 high schools in two to three provinces. Further information will be released later, the spokesperson said.
Cambodia and China also carried out symbolic inauguration ceremonies for the Phnom Penh-Sihanoukville Expressway, carbon emission project areas in Sihanouk province, and Kong Zi institute of Cambodia University of Technology and Science.
Other documents the leaders signed included agreements on grants for a bridge across the Mekong River in Kratie province and linking roads construction, and for the National Road 7 expansion in Kampong Cham province.
Cambodia and China also signed a document on Cambodia's transport network master plan and certificates on the second phase of a rural roads improvement project, sending Chinese traditional doctors​ combatting COVID-19 to Cambodia, emergency equipment to supply and support Cambodia as ASEAN's Chair, an assistance project to help improve school environments and educational materials in Cambodia, and an engineering project to support the citizens' livelihood improvement of the Phnom Penh-Sihanoukville Expressway construction project, funded by China.
Both leaders agreed to strengthen cooperation projects between Cambodia and China on agricultural trade, pharmaceuticals, bio-veterinary items, additional substances for animals, and equipment and methods supplying in responding to climate change under the South-South Cooperation framework.
Both governments signed agreements to expand cooperation on science, technology and innovation sectors, animal vaccines, on the prevention of illegal importing-exporting and stealing cultural heritage, and on Cambodia-China Chinese traditional pharmacy center establishment.
The prime minister and the premier also agreed on protocols for sanitary and phytosanitary measures for export of pepper and natural agricultural products to China.
Li Keqiang is visiting Cambodia to attend the ASEAN Summits and related summits in Phnom Penh.
Related Articles