China Focus: China fully enhances IPR protection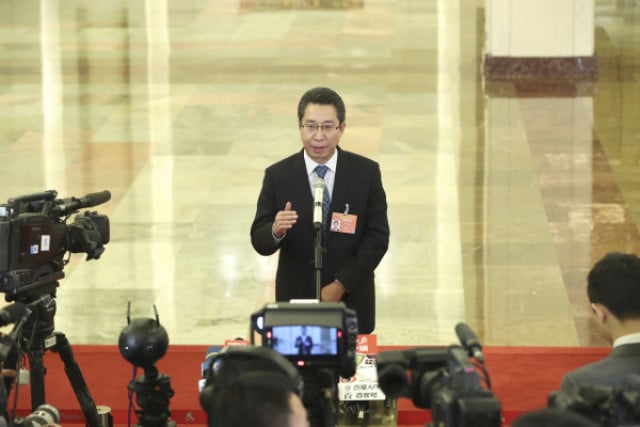 Thmey Thmey
April 29, 2019 4:52 AM
Beijing, China-- China fully enhanced its protection of intellectual property rights (IPR) in 2018 amid a series of fundamental changes, according to the National Intellectual Property Administration (NIPA).
In introducing the country's major accomplishments last year in IPR protection at a press conference hosted by the State Council Information Office Sunday, Shen Changyu, head of the administration, said "IPR protection can never be good enough and can only get better."
STRONGER LAW ENFORCEMENT
Over 5,600 people in some 3,300 cases were arrested for IPR infringement in 2018, Shen said, while prosecutors across the country filed over 4,400 IPR infringement cases involving more than 8,300 people.
The centralized and unified management of trademarks, patents and geographical indications implemented last year significantly improved the efficiency of IPR law enforcement, according to Shen.
Around 77,000 cases on patents were handled in the country's administrative law enforcement last year, up 15.9 percent from the previous year, while more than 31,000 trademark violation cases were dealt with, involving nearly 546 million yuan (about 81.2 million U.S. dollars).
Over 2,500 piracy cases were also handled last year, with more efforts put into the film industry. So far, 22 major cases involving pirated movies have been cracked during a crackdown jointly launched by copyright administration and public security agencies.
GRAND PROSPECTS FOR INT'L COOPERATION
China has been actively participating in multilateral affairs under the World Trade Organization and World Intellectual Property Organization frameworks, and promoting the improvement of international rules concerning IPR, said Shen.
The NIPA is now in cooperation with 28 patent offices across the world under the Patent Prosecution Highway, a framework for the examination of patent applications filed to participant offices.
Shen stated that China will make efforts for the Beijing Treaty on Audiovisual Performances adopted in 2012 to deal with IPR of performers in audiovisual performances to come into force at an early date.
Last year, China held the 2018 high-level conference on intellectual property for countries participating in the Belt and Road Initiative, which set eight practical cooperation programs regarding issues such as macro policies, IPR reviews and information exchanges.
The conference, first held in 2016, will be held next year as a platform for discussion on IPR cooperation, Shen said.
IP CREATIONS ON THE RISE
The quantity of intellectual property created by China increased in 2018 and their quality also improved, according to the NIPA.
The number of invention patents owned by individuals and organizations on the Chinese mainland reached 1.6 million by the end of 2018, an increase of 18.1 percent over the previous year, said Shen.
As of end of 2018, valid trademarks registered by Chinese mainland entities reached 18.05 million, up 32.8 percent year on year.
Throughout 2018, the administration registered copyrights for 2.35 million pieces of works and 1.1 million pieces of computer software, up 17 percent and 48 percent, respectively.
The improvement was helped by the shorter average examination period for the registration of trademarks, which was six months last year, as the country will continue to work for the higher quality and efficiency of IP examination, Shen said.
(Source: Xinhua)
Related Articles