China-funded free-surgery program brings new hope to Cambodian children with heart disease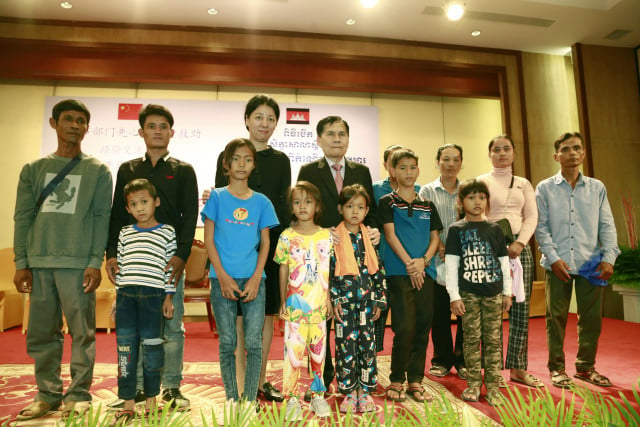 PHNOM PENH, July 15 (Xinhua)-- Sey Muoy, a Cambodian teenager from northwestern Battambang province, has returned to a healthy life after she had her congenital heart defects (CHD) remedied by Chinese surgeons last year.

Muoy, 15, had CHD from birth, but she just realized it early last year when a group of Chinese and Cambodian doctors under the "China-Cambodia Love Heart Journey" program visited her school in the province to screen students for the CHD.
She was sent to the Yunnan Fuwai Cardiovascular Diseases Hospital in Southwest China's Yunnan Province for free surgery in June last year, which has completely changed her life since then.
"Before the surgery, it was difficult to live, I always had rapid breathing and felt tired all the time, but after I underwent the surgery, I'm healthy and can do whatever I want," Muoy told Xinhua on Monday when she was invited to attend a CHD seminar in Phnom Penh.
"The Chinese doctors have provided me a new life and new hope. In the future, I've dreamed of becoming a teacher of English," said the Grade-7 student at a secondary school.
Muoy said she was accompanied by his 75-year-old grandfather while she had the surgery at the hospital in Yunnan because her parents, who are migrant laborers in Thailand, could not go with her.
"I stayed in the hospital for a month and eight days," she said. "I will never forget the kindness of both Chinese and Cambodian doctors as well as other donors."
Khun Yeanglang, a 14-year-old boy from western Kampong Speu province, said he was diagnosed for the CHD about two months ago after the medical team approached his school to give heart checks to students.
"I have shortness of breath and pain in my heart when the weather is cold," he told Xinhua while attending the seminar with his mother.
Yeanglang is one of the six patients who will travel to the Yunnan Fuwai Cardiovascular Diseases Hospital on Tuesday for surgery.
"They will cover all my expenses during the trip to China for treatment, including air tickets, food, accommodation and surgery cost," said the Grade-6 student at a secondary school. "Without their support, I can't make it because my parents are poor farmers."
Zuo Wenxing, charge d'affaires of the Chinese Embassy in Cambodia, said at the seminar that the Yunnan Fuwai Cardiovascular Diseases Hospital has so far treated 29 Cambodian children with congenital heart disease since the program was launched in January last year.
This program is a vivid example of the good relations between the two countries, said Zuo.
Under the three-year program, China will provide 100 Cambodian children who have congenital heart disease with free surgery.
Ma Linkun, deputy dean of the Yunnan Fuwai Cardiovascular Diseases Hospital, said another group of six patients will travel with their parents to China for the treatment on Tuesday.
"I hope that these children, when they grow up, will become the messengers of the Chinese and Cambodian peoples and the contributors to the China-Cambodia friendship," he said, adding that all the expense of their treatment had been covered by the Chinese government, charities and the hospital.
Luo Zhi, president of the Kunming Yundi Behavior and Health Research Center, said the organization has assisted the hospital since 2017 to carry out screening for children with congenital heart disease in Cambodia.
To date, a total of 32,439 children in Cambodia had been screened, he said.
Cambodian Health Ministry Secretary of State Sea Huong spoke highly of the excellent cooperation between the two countries in the program.
"This is a testament to good cooperation in health sector between our two countries and it will contribute further to deepening people-to-people bonds," he said. "I hope under close cooperation between the two countries, more Cambodian children with congenital heart disease will receive free surgery in China."
Related Articles