China pledges continued support for Cambodia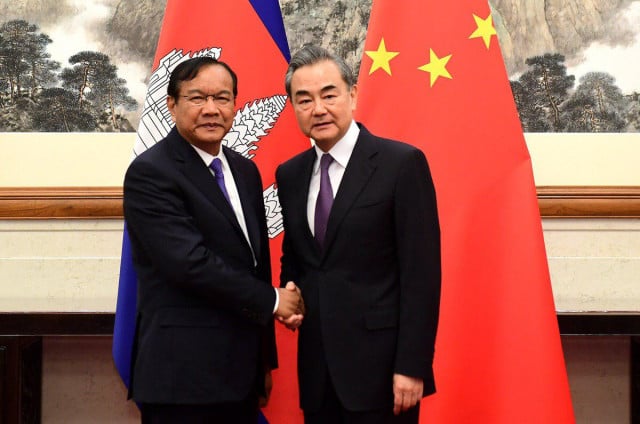 China to assist Cambodia to successfully host 2020 Asia-Europe Meeting
PHNOM PENH - China has pledged to continue its support for the socio-economic development of Cambodia and the hosting of the Asia-Europe Meeting (ASEM) Summit next year.
The pledge was made during a call by Foreign Minister Prak Sokhonn on Chinese Prime Minister Li Keqiang on Friday, the foreign ministry said.
"Premier Li Keqiang reaffirmed that China will continue to assist Cambodia's socio-economic development and will lend full support for the success of the 13th ASEM Summit," a statement said.
At the last ASEM Summit in Brussels in October, leaders chose Cambodia as the host next year.
Prak Sokhonn, who was on an official two-day visit to China from Friday, appreciated Chinese contributions and support for Cambodia.
During the visit, Prak Sokhonn also held talks with Chinese counterpart Wang Yi.
Both foreign ministers agreed to join hands in implementing an Action Plan on Forging Cambodia-China Community of Shared Future 2019-2023. The plan was signed in April to create closer political-security, economic and people-to-people ties.
Wang, according to the statement, promised that China would make utmost efforts to encourage more Chinese investment in Cambodia and expand market access for the country's products.
Praising cooperation under the Belt and Road Initiative, both ministers expressed their determination to ensure that projects in Cambodia would be a model of success that benefit local people.
On the South China Sea Code of Conduct (COC), both sides agreed that it was important to keep "a momentum of ASEAN-China dialogue and concerted effort to complete the COC in three years as proposed by China."
Related Articles