China retains central bank chief in unexpected move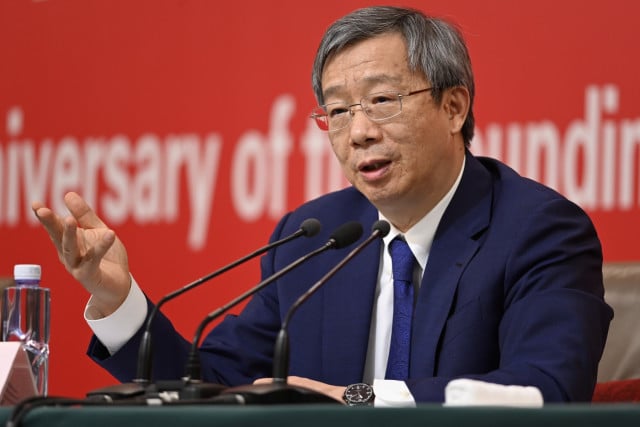 Beijing, China -- China retained its central bank chief Sunday in a surprise move, as the country focuses on fighting economic headwinds.
At a meeting of China's rubber-stamp national legislature to appoint the country's new cabinet, Yi Gang was confirmed as governor of the People's Bank of China, against expectations that retirement-age Yi would step down.
China also retained other top economic officials, including Wang Wentao and Liu Kun, who will remain as ministers of commerce and finance respectively.
The cabinet faces the task of revitalising the Chinese economy, which last year expanded just three percent -- one of its weakest performances in decades.
China's housing market, which along with construction accounts for more than a quarter of GDP, remains in a slump, having been dealt a hefty blow since Beijing started cracking down on excessive borrowing and rampant speculation in 2020.
Beijing also confirmed key allies of President Xi Jinping to its cabinet.
Top Xi aide Ding Xuexiang and He Lifeng, a longtime colleague of Xi's, were nominated to vice premier positions by new premier Li Qiang.
Ding and He received almost all votes from more than 2,900 legislators, with former mayor of Tianjin Zhang Guoqing as well as former Shaanxi province party secretary Liu Guozhong also selected as vice premiers.
Xi has stacked the top levels of government with loyalists as he cements his grip on power, with trusted ally Li Qiang confirmed as premier on Saturday, just a day after Xi was unanimously selected by legislators for a norm-breaking third term as president.
"Both Ding and He have been close political allies to President Xi, and Mr He and President Xi have known each other for decades," Nomura analysts wrote in a recent note.
"Such close relationships may help the new government's policy delivery and cross-ministry coordination," the analysts said.
© Agence France-Presse
Related Articles