China to Grant Mekong Nations Priority Access to COVID-19 Vaccine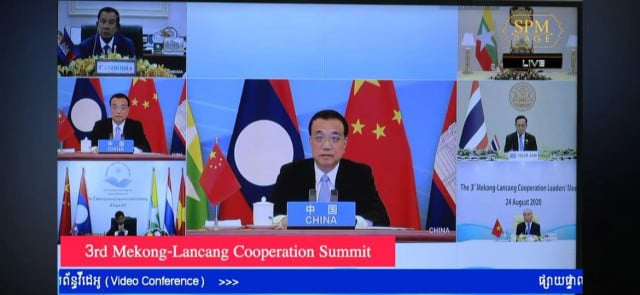 Phoung Vantha
August 25, 2020 3:32 AM
Cambodian Ministry of Health refuses to rule out accepting Chinese vaccine regardless of WHO approval as first case of COVID-19 reinfection confirmed in Hong Kong.

PHNOM PENH--Mekong countries will be given priority access to China's Coronavirus Disease 2019 (COVID-19) vaccines once one is developed and passes standardized clinical trials, Chinese Premier Li Keqiang said Aug. 24.

On Aug. 23, Head of the National Health Commission's Science and Technology Center in China, Zheng Zhongwei, stated in an interview with Chinese state-run media that key workers and high-risk groups had been receiving an experimental vaccine since July 2020.

Zheng did not go into the details of the vaccine, but currently there is no COVID-19 vaccine available that has been approved by the World Health Organization (WHO). In the early hours of Aug. 25 however, a Hong Kong national became the first confirmed case of COVID-19 reinfection, prompting fears over the efficacy of any vaccine developed and casting serious doubts of the viability of a herd immunity strategy.

However, with both China and Russia seemingly leading the world's vaccine development efforts in terms of speed, Cambodia looks set to receive preferential access to a Chinese vaccine through the Lancang-Mekong Cooperation (LMC) program.

Speaking on Aug. 24 at the LMC Leader's Meeting—a video conference attended by leaders from China, Cambodia, Lao PDR, Myanmar, Thailand and Vietnam—Li hinted that Mekong nations would be given priority to a Chinese COVID-19 vaccine.

He continued that China has also set up a special fund to promote public health within the framework of the LMC that, in particular, will provide technical support and equipment to fight COVID-19 to countries along the Mekong River.

Or Vandine, spokesperson for the Ministry of Health said that as Cambodia is a member of the International Immunization Alliance (GAVI), the ministry has already considered proposing an equitable vaccine for Cambodia, which would see the ministry support vaccine manufacturers to ensure that enough vaccines are available once it has been licensed and approved.

She went on to say that the ministry is still working closely with the WHO, but when asked if Cambodia would accept a Chinese vaccine that had not been approved by the WHO, Vandine simply replied: "Stay tuned, thank you."

The Ministry of Health on Tuesday (Aug. 25) reported no new cases of Coronavirus Disease 2019 (COVID-19) had been found in Cambodia, leaving just 10 active cases nationwide.
Related Articles