China's Blue Sky Rescue Team to Disinfect Public Places Across Cambodia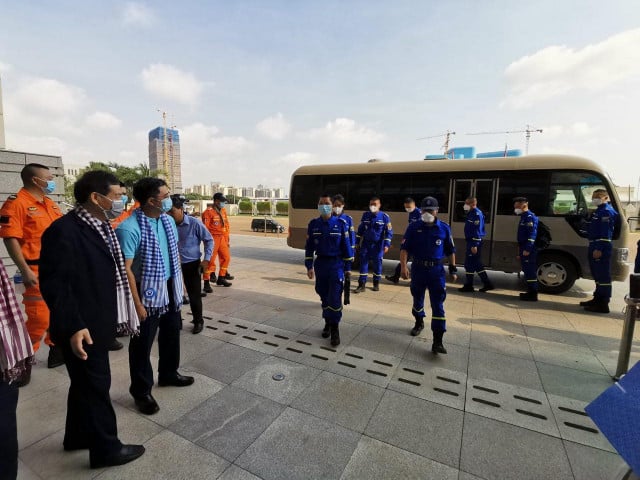 Phoung Vantha
May 4, 2020 8:57 AM
As China's largest NGO, Blue Sky Rescue Team arrived in Cambodia on April 28 and intend to work across the whole country.

PHNOM PENH--On May 4, China's Blue Sky Rescue Team donated medical equipment worth $184,000 to Cambodia as part of Blue Sky Rescue Team's continued efforts in containing the Coronavirus Disease 2019 (COVID-19) pandemic in Cambodia.

Founded in 2007, the Blue Sky Team is China's largest non-governmental organization and focuses on search and rescue operations, as well as health assistance and epidemic prevention operations. A 10-man team from Blue Sky Rescue Team arrived in Cambodia on April 28, but today marked their official handover of equipment.

Wang Yi, the Chinese Blue Sky Rescue team leader said that his group will assist in disinfection and sterilization as well as training to help Cambodia fight against COVID-19.

"Real friends always help each other when they're having problems," said Yi. "We are willing to use our professionalism and experience to join the Royal Government of Cambodia and the Cambodian people in fighting the global threat of COVID-19," he said.

During the handover ceremony on May 4, Yi said that on April 30, his team went on a mission in Phnom Penh, Kandal province and Takeo province to disinfect public places. In large scale spraying operations, Blue Sky Rescue Team aimed to eradicate COVID-19 in around 20 public places.

China's Blue Sky Rescue Team will continue to Sihanouk, Kampong Chhnang, Siem Reap, Preah Vihear, Kampong Cham, Tbong Khmum, and Pursat provinces, he added.


Related Articles
November 28, 2019 10:12 AM