Chinese Assistance Boosts Cambodian Independence: PM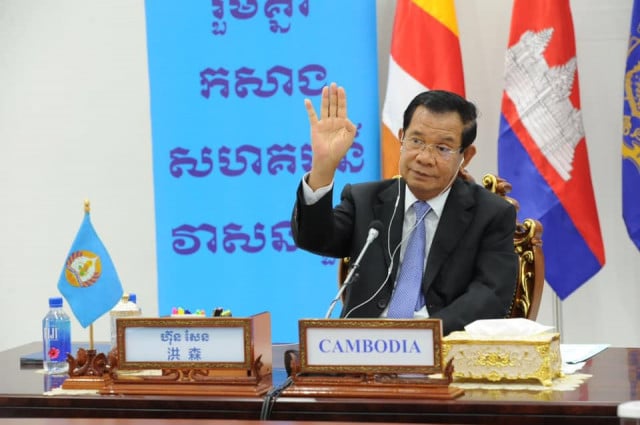 Hun Sen tells forum that Beijing never imposes conditions on aid
PHNOM PENH--Prime Minister Hun Sen says Chinese aid not only helps to develop Cambodia's economy and society and ease poverty but also helps the country become politically independent.
Hun Sen made his remarks at the Communist Party of China (CPC) and World Political Parties Summit, held to commemorate the 100th anniversary on July 6 of the CPC's founding.
China's global times said representatives of more than 500 political parties from around the world took part in the virtual summit. The summit follows high-level dialogue between the CPC and world political parties in Beijing in 2017.
Hun Sen told the meeting, "The assistance of our Chinese friends really helps to strengthen political independence along with economic and social development and in reducing poverty."
He said small and poor countries need independence and sovereignty, and did not want anyone to give orders or interfere in their internal affairs. Chinese aid never imposed conditions or orders for Cambodia to do what China wants.
Recently, Hun Sen has praised China as key to the battle against Covid-19 as the main vaccine source. He said some unnamed countries loudly promised one to two billion doses to other countries but none were available.
"That's why I need to choose China as the strategic vaccine supply. If you don't provide vaccines to us, who should I turn to? I need to protect the lives of my people, too," he said.
He said Chinese aid has played an important role to help Cambodia, which has thriving infrastructure such as roads, bridges and large commercial buildings. Cambodia does not reject help from any country that wants to provide assistance.
He said previously that powerful countries and international institutions applied double standards to small and poor countries over human rights issues.
China-Cambodia trade reached more than $9.56 billion in 2020, according to the Chinese embassy in Cambodia.

Additional reporting by Phoung Vantha
Related Articles