Chinese Investors Cautiously Return to Sihanoukville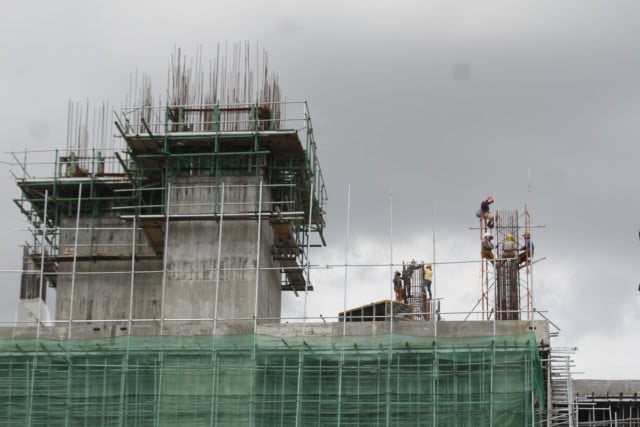 Phoung Vantha
June 16, 2020 8:12 AM
Preah Sihanouk Governor Reveals $30 billion invested in province between 1994 and 2020 mostly came from China.

PHNOM PENH--Preah Sihanouk provincial hall spokesman Kheang Phearum on June 15 said that more than 1,000 Chinese investors had returned to the province between May 23 and June 13, 2020. Phearum went on to say that there are currently two direct flights from China to Preah Sihanouk province as both China and Cambodia slowly return to normal, following the Coronavirus Disease 2019 (COVID-19) pandemic.

While international arrivals in Cambodia have been severely affected by the pandemic, the arrival of some 1,066 Chinese businessmen over the past three weeks shows some signs of recovery. In March 2020, Cambodia welcomed just 223,400 international arrivals—a 64.7 percent drop from the March 2019 figures—but April 2020 saw a 99.1 percent drop from the previous year, with just 4,841 foreigners recorded as arriving by the Ministry of Tourism, who added that data for May 2020 is not yet available.

"In the first four months of 2020, there were more than 1.6 million international tourists, a decrease of about 52 percent compared to the same period in 2019," said Top Sopheak, a spokesperson for the Ministry of Tourism.

"Due to the COVID-19 crisis, the international tourism situation has remained largely unchanged, but the local tourist movement has been active with people traveling to destinations that are particularly popular in the coastal and ecotourism regions," he said, adding that Siem Reap has seen signs of a domestic tourism revival.

Phearum sought to reassure locals and added that all international arrivals must follow the strict protocols laid out by the Ministry of Health, which includes a COVID-19 test upon arrival, followed by a night in a hotel awaiting the results of the test and then a 14-day quarantine period if anyone onboard the flight tests positive.

The government has recently announced that it will no longer cover the costs of quarantine and testing for arriving foreigners, but is apparently yet to implement the $3,000 deposit scheme that has been widely reported as coming into effect soon.

"We see that COVID-19 is a global issue, but however I noted that Chinese businessman presently are coming back to Cambodia. This is a positive sign as they haven't given up on their businesses in Sihanoukville, so we have hope for the investment sector, the tourism sector and the industrial sector," he said.

However, as Phearum's outlook remained optimistic, parts of Beijing recently went back into lockdown following a spate of cases linked for a market. This prompted many to suggest it is still too soon to return to business as usual.

Phearum did confirm that supermarkets, hotels, guesthouses and many businesses across Preah Sihanouk province are reopening in anticipation of Chinese investors returning, with four of the 10 special economic zones currently operating. In July 2019, a representative from the Sihanoukville police department estimated that some 90 percent of businesses in the city were owned by Chinese nationals. The report came amid fears that—through online gambling operations, poorly managed construction sites and a rumored naval base—China was steadily taking over the once tranquil coastal town.

While there is no invading force to speak of and the Cambodian government has moved to ban online gambling, regulate property development somewhat and has stringently denied the existence of a deal allowing the Chinese naval base to be built, the level of investment from China has transformed the province entirely.

China remains the number one source of foreign direct investment into Cambodia, investing some $3.5 billion in 2019 alone.

Governor of Sihanoukville Kouch Chamroeun said in June 2020 that there are 194 investment projects under construction in Sihanoukville with a total of $30 billion being invested into Preah Sihanouk—mostly by Chinese investors—between 1994 and 2020.

Most of those projects, he said, are real estate and economic land concessions, but he said he couldn't be certain how many of these have been affected by COVID-19.

His report showed that 12 real estate investment companies and projects have made a total investment of more than $1 billion, but a further $112.5 million has been invested in economic land concessions that have been granted to five Chinese companies—covering some 11,728 hectares of land.

Long-term lease investment projects by just three companies were reported to be worth almost $7.7 billion, covering 705,597 hectares, but Chamroeun did not specify how long these leases would last.

However, he did report that 20 companies are invested in the development of an archipelago of islands off the coast of Sihanoukville covering 11,637 hectares and bringing in $3.9 billion in investments.

Some 60 companies are thought to have invested roughly $10.7 billion into tourism projects, a further 11 companies invested $213 million into agribusiness projects in the province and manufacturing opportunities have attracted six businesses who collectively invested $59 million.

Similarly, nine companies have invested $334 million into food and beverage production and some $1.4 billion has been invested into special economic zones.

Chamroeun said that there are currently almost 15,000 Chinese nationals living and working in the province, down slightly from the estimated 20,000 who lived and worked in Sihanoukville before the pandemic in December 2019.

Preah Sihanouk province's census of foreigners report released in February 2019 showed that there are 40,770 foreigners of 57 nationalities who are permanently residing in Preah Sihanouk province.


Related Articles