Chinese New Year: Make Offerings to Get Rich or After Getting Rich?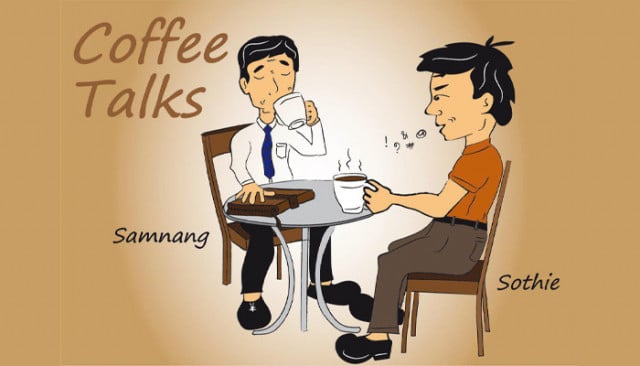 Cambodianess
February 14, 2021 5:35 AM
While the weekend was approaching, last Friday (Feb. 12), Sothie and Samnang went to work as usual. Because of the Chinese and Vietnamese New Year celebrations, the two pals did not get stuck in the usual morning traffic jam on their way to work. Before heading for their respective workplaces, Samnang and Sothie met at their usual Café. This time, they discussed the ritual offerings during these new year celebrations.
Sothie: I have heard a lot of things about the ritual offering practices. Some people believe that the more you give ritually, the better. Others say that ritual offerings do not have to be huge and glamorous. As long as you conduct the practices, that is pretty much enough. So, what are your thoughts on this, Samnang?
Samnang: I don't think I'm able to fully understand about this. However, I may offer you my own small and simple advice. Just conduct the ritual offerings in proportion to your own resources. Do it according to your own capability. It does not really matter how much good deed you will have in return. If you are not rich, just do not try to go big!
Sothie: However, if I am, to a very small extent, partially linked to a Chinese bloodline, should I practice the Chinese ritual offerings?
Samnang: In my opinion, religious and traditional practices are the personal matters of people. Our country's law does not forbid it. It is people's right with religions. If you are of Khmer bloodline but also wish to practice Chinese ritual offerings, then just do it. However, just give this second thought. If it is not our own tradition, should it be necessary for us to practice those rituals?
Sothie: Samnang, should we do religious offerings in order to get rich, or should we get rich first before we conduct ritual offerings?
Samnang: Oh dear! This is a complicated question. The easiest answer is you can do whatever you like. Rituals belief is about emotion, Sothie. If you think that what you are doing will bring you advantages, then do it. Belief is abstract. It is invisible. Well, before we go to work, let me tell you this: Whatever you do, do it with a clear consideration of your own family budget.
Related Articles