Chuon Phirum -- 19 Years of Adventure at Cambodia's Most Remote Natural Sites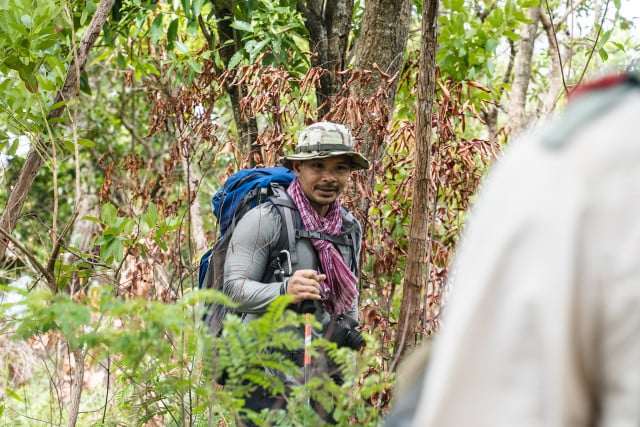 Phat Dane and Torn Chanritheara
August 9, 2020 5:15 AM
Those treks have also become an opportunity to promote local tourism, he says

PHNOM PENH--Adventure trips have been a passion for Chuon Phirum who has spent 19 years exploring inaccessible sites such as the country's highest peak—Oral mountain in Kampong Speu Province—and trekking through the most remote parts of Ratanakiri Province in the northeast. After travelling on his own, Phearum is now guiding likeminded people eager to see those beautiful sites.
For Phirum, trekking remains a challenge but is a great deal more fun than regular trips because they enable a person to experience true adventures, he said.
"A normal trip is easier because you can travel by car or ride a motorcycle, and set up in advance lodging and food," he said during a phone interview.
Still, one cannot deny that adventure trips can be difficult, he said. "For trekking, we must prepare the equipment, food and itinerary. If we are lost, we need to know what to do. It's different," the 40-year-old man said, from a regular trip for which everything is planned in advance.


Since 2001—the year he managed to reach the top of Oral Mountain—Phirum has been traveling to hard-to-reach destinations in numerous provinces such as Khnorng Psa in the Cardamom Mountains, Khnorng Krapeu mountain in Kampong Speu Province and Phnom Veal Thom in Virachey National Park.
Phirum, who works for an international organization with an office in Cambodia, said he normally spends $40 to $50 for a three-day trip and $100 to $200 for a five-day trip, which is not much, he said, compared to the amount one spends on clothes.
Having trekked to far-away locations throughout the country, Phearum is now occasionally leading people on similar adventures. "Although it doesn't give me anything in return, I think [by doing this] we promote tourism sites in our country so that our people can know we are rich in nature sites for tourism," Phirum said.
"When we find a pristine place, which can be a potential tourism destination, it can help the community in that area," he said.
Those nature sites may help generate income for local communities as they can provide local services such as food, motorcycle rental, or help carry tourists' equipment on a trek, Phirum said. And at the same time, these trips enable tourists to experience beautiful sites and reconnect with nature, he added.
While Phirum means to continue encouraging people to embark on those adventures and guide them on treks, he has no intention of becoming a tour guide, he said.
But he plans to keep on exploring the country's remote as well as eco-tourism sites. He is also thinking of making similar trips abroad.
Over the years, going on treks has enabled Phirum to leave his studies and work behind. This is why, whether he does so in this or other countries, he has no intention of giving up trekking.
Related Articles
February 21, 2022 12:51 PM