Cintri Strike Ends as City Hall Guarantees Workers' Employment and Benefits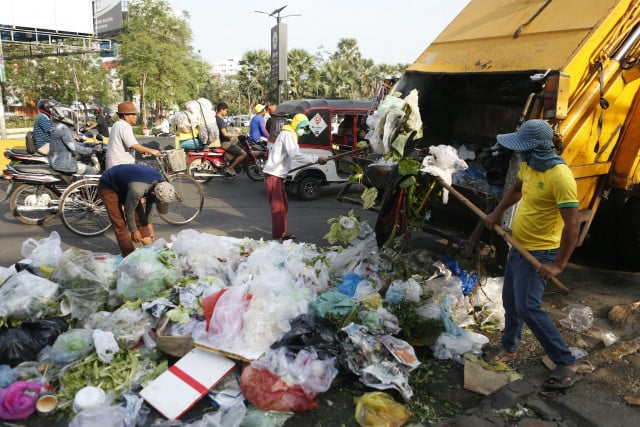 Lay Sopheavatey and Phoung Vantha 
October 7, 2020 9:28 AM
The striking garbage workers returned to work this afternoon to clear the mounting piles of garbage from Phnom Penh's streets after City Hall agreed to workers' severance and future employment.
PHNOM PENH--Cintri employees on Wednesday (Oct 7) agreed to end their strike and return to work after the company agreed to pay them all benefits and City Hall guaranteed the safety of their work in the future.
Negotiations between Governor of Phnom Penh Khoung Sreng, representatives from both Cintri and its workforce led to the company agreeing to the workers' demands. Cintri has now promised to settle the termination of employee contracts in accordance with the Labor Law and Phnom Penh's City Hall has agreed to act as a guarantor.
All employees will receive all benefits they are eligible for in the event of termination and are guaranteed employment following the results of the bidding process for new companies to take over the city's waste management.
City Hall pledged to ensure Cintri's workers will have a job regardless of whether Cintri itself wins a contract with the authorities to dispose of garbage.
This result comes after Cintri workers went on strike on Oct. 2, following City Hall's announcement that it was making changes to the city's waste management systems. Rather than Cintri holding a monopoly on the city, Phnom Penh is to be divided into three areas, with three separate companies managing each area.
Regardless of Cintri winning or losing their bid, employees feared that the company would be forced to terminate numerous employees and went on strike. They demanded the company pay them the seniority pay, compensatory damages, advance notice, final salary, and remaining annual leave they are owed in the event of termination.
For five days the garbage went mostly uncollected, with the streets of Phnom Penh filling with piles of trash that created a city-wide odor. Business owners and residents have complained and City Hall on Oct. 5 announced an emergency recruitment drive to take out the trash.
With City Hall guaranteeing Cintri employees future work and the company promising to pay out terminated staff fairly, the workers agreed to return to work on the afternoon of Oct. 7, but Huon Bony—a representative of the Cintri employees—confirmed that many workers have requested they return to work on Oct. 8 as they were exhausted by the five-day strike.
City Hall appears to have acquiesced in part to this request, but has instead called upon a number of Cintri employees to collect garbage through the night of Oct. 7.
"Their group leader will try to talk with those people who work at night shift," Bony said.
Irrespective of the potential nightshift, the agreement struck today is a massive win for Cintri workers according to Patrick Lee—a consultant working with labor rights group CENTRAL.
"I think the upcoming garbage contract award has naturally left Cintri workers anxious about their future; particularly with so many cases in the media of workers protesting for legal severance in the event of enterprise closures," he said, adding that the guarantee of both severance and future employment allays those fears.
"The resolution is a credit to all parties involved, but particularly the Phnom Penh Administration for its guaranteeing of Cintri workers' severance and future employment," he added.
Lee went on to praise the efforts of genuinely independent unions such as Cambodia Tourism Workers Union Federation (CTWUF), who have a local union within Cintri, noting the success today was achieved by Cambodian workers sticking together.
Touch Kosal, president of CTWUF, said that it was a fruitful and acceptable result for garbage collectors as in the past they had not had a written contract.
"In the past, workers were worried who will be responsible for their working benefits, but now City Hall showed that it is responsible and the workers find it acceptable that they now have a written contract," he said.
Related Articles