Cintri Workers Remain on Strike as No Deal Reached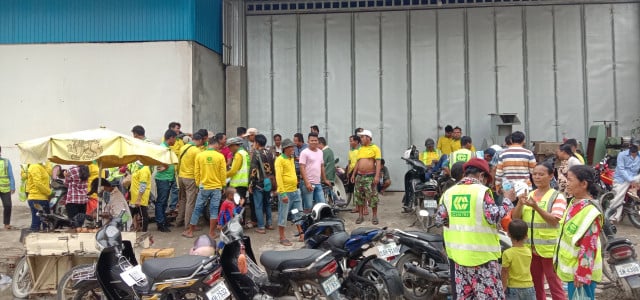 Lay Sopheavatey and Phoung Vantha
October 6, 2020 5:03 AM
The reek of rotting garbage wafts through the streets of Phnom Penh as Cintri workers—concerned about the future of their jobs—continue to strike with City Hall failing to collect the growing piles of rubbish.
PHNOM PENH--Some 1,000 Cintri employees have continued to demand that the company pay them seniority pay and other benefits due to concerns that the company will reduce the number of employees or close down ahead of a major restructuring of waste management operations by City Hall.
Phnom Penh Municipal Authority plans to divide the waste management of Phnom Penh's 14 districts into three areas for three companies selected by a bidding process run by City Hall. As the impasse continues between the striking workers and the company, the piles of garbage are mounting throughout the city.
As Cintri workers remain on strike, City Hall on Oct. 5 announced an emergency recruitment drive to get more people out on the streets collecting trash.
Grim-faced and dressed in her Cintri uniform, Chhun Navann said that the strike was a means for the workers to apply pressure on the company to pay up the benefits they owe. The 67-year-old has worked as a street sweeper for six years and in that time has been hit twice by passing motorbikes while she was working.
She said she is worried about the restructuring which would mean that Cintri would cut a large number of employees, so—with the future of their jobs at stake—most of Cintri's workforce have taken to the streets to demand their employer pays up the seniority allowance and others benefits.
"This strike is for the benefit of all, not just one, so I came to join," she said.
A group leader of Cintri garbage workers, Huon Bony, confirmed that none of the company's 3,000 workers have been working since Oct. 2, saying that the authorities' decision to prepare for bidding has prompted them to take action.
Bony added that it doesn't matter whether Cintri wins or loses their bid for one third of the city, they will reduce their workforce drastically either way.
"We will continue to work, but it is important that Cintri give us our old benefit payments and if we get a new job [in waste management] or a new boss, we will have to start counting the new work again," he said in reference to the seniority pay the Cintri workers claim they are owed.
However, seniority pay is just one of five points that the striking Cintri workers have demanded. They have also requested that compensatory damages, advance notice, final salary and remaining annual leave be paid out too.
Touch Kosal, a Cintri union representative, said that he also tried to explain to the workers that these five demands were possible only if the company fired workers or if it closed. He urged both parties to continue negotiations.
Representatives of Cintri could not be reached for comment at press time.
City Hall spokesperson Met Meas Pheakdey said that the Cintri workers' strike was illegal. He said that the five demands can be met if the company lay off employees and that workers would have the right to demand this in that eventuality, but not while the company still operates with all staff still employed.
However, he could not give details about the preparation of a new waste management system or the selection of companies for collecting garbage in the future.
He added that the announcement of the recruitment of new garbage collectors is to solve the garbage congestion in Phnom Penh while Cintri's workers are protesting, but he did not confirm whether the new employees would be hired by another company or City Hall.


According to the City Hall statement on Oct. 3, it called on Cintri workers to return to work not later than Oct 5. If workers fail to return to work, the statement said, City hall would bring in new workers replace them and to deal with the growing piles of uncollected trash.
"Do not take the trash issue as a hostage to demand illegal conditions. Please collect trash as usual and transport [it] no later than Monday," City hall statement read.
Established in 2002, Cintri has in recent years lost the trust of the government as it has failed to keep up with the expanding population of Phnom Penh and the subsequent increased volumes of waste generated. In October 2019, Prime Minister Hun Sen announced that the company would lose its contract with the government, but Cintri trucks have continued to patrol the streets collecting garbage.
Related Articles