City Hall Demands Cintri Workers Return to Work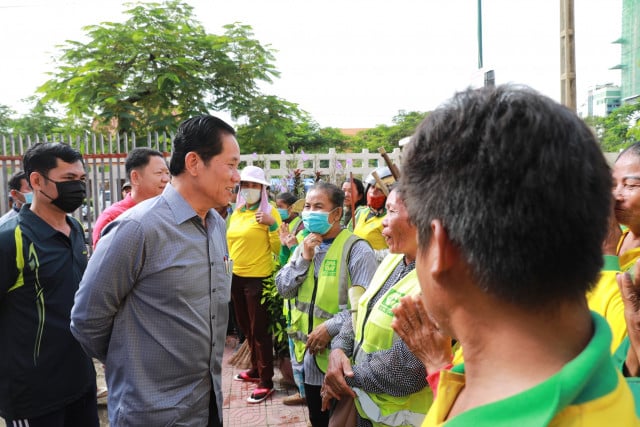 Phoung Vantha
October 12, 2020 10:52 AM
Numerous failed attempts to resolve the ongoing strike organized by workers of Phnom Penh's only waste disposal company has created confusion and disruption throughout the city.
PHNOM PENH--Phnom Penh's City Hall on Monday (Oct. 12) called on all Cintri workers to return to work and not to continue with what they deemed illegal strikes. City Hall warned that if the strike continues, then those involved may be stripped of their benefits.
In a statement released on Facebook, City Hall said that they are abiding by the agreement struck on Oct. 7, but the agreement—signed between City Hall, Cintri and unionists—has been rejected by workers who say they lack faith in Cintri's ability to pay out salaries and benefits in the event that the company goes bankrupt.
These fears originated from Phnom Penh Municipality Authorities' announcement that they would restructure the city's waste management services. Currently, Cintri is the only company licensed to collect garbage and is responsible for the whole city. The authorities plan to divide the city into three zones and open each zone up to bidding from numerous companies.
Cintri employees fear that whether the company wins or loses a contract, terminations are inevitable. This fear has been compounded by Cintri's poor performance that earned the company a scolding from Prime Minister Hun Sen in November 2019.
Kao Savat, Cintri employees' union president, said that the workers have been on strike since Oct. 2 and will continue their protest.
"If the company does not pay our benefits at the specified time and resolve for all workers," he said, warning that the strike will go on unless Cintri pays employees benefits owed before the company loses its contract.
However, around 200 of the 2,150 workers, most of them women, went back to work, Savat said.
"Some street sweepers were back at work…but the truck drivers and garbage collectors who transport the trash to the landfill remain on strike," he said.
On Oct. 7, worker representatives met with Governor of Phnom Penh Khoung Sreng and Cintri representatives. The company had agreed to accede to the workers' demands, promising to settle the termination of employee contracts in accordance with the Labor Law and with all the benefits due. Phnom Penh's City Hall agreed to act as a guarantor.
Roughly 2,500 to 3,000 tons of garbage is transported from various districts in Phnom Penh to the landfill each day, Khuong Sreng, Governor of Phnom Penh said.
Related Articles