Civil Groups: True Justice for Kem Ley Still Has to be Served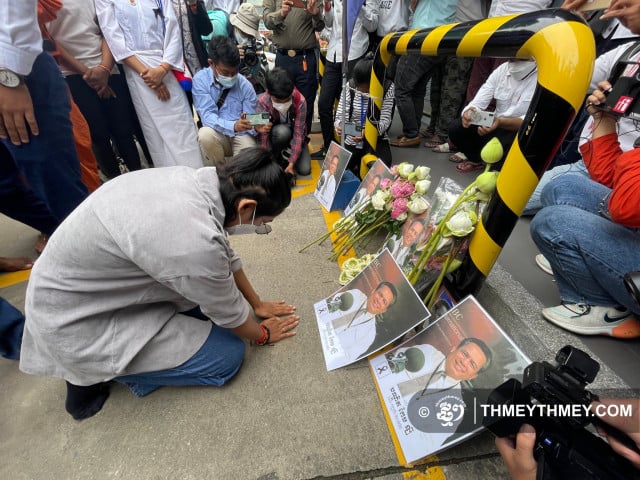 PHNOM PENH – Civil society groups and youth activists continued to urge for justice to be served for the assassination of Kem Ley, on the sixth anniversary of his murder.
Around 70 people from the civil society paid tribute on July 10 to Kem Ley, a prominent political analyst who was shot dead while drinking his morning coffee on July 10, 2016. They laid a wreath at the Caltex station where he was shot, at the corner of Monivong and Mao Tse Toung boulevards. They wanted to commemorate his heroism as many Cambodians consider him a symbol of freedom.
Am Sam Ath, monitoring manager at the Cambodian League for the Promotion and Defense of Human Rights (LICADHO), who joined the sixth-year anniversary, said that he wants to recall Kem Ley's heroism and urges for justice to be served for him and his family.
The Phnom Penh Municipal Court still has to investigate who could really be the people behind the case, said Sam Ath, who does not believe that Oeut Ang, also known as Choub Samlap, is the only person responsible for Kem Ley's murder.
Oeut Ang was found guilty of premeditated murder and sentenced to life in prison.
"True justice for Kem Ley has not been served yet, and we believe his assassination did not only involve Choub Samlap, there were also those behind the shooting," he said.
Choub Samlap confessed to the killing, saying he was angry at Kem Ley, claiming he shot him over a $3,000 debt.
Sam Ath suggested the opening of another investigation, targeting the ones who pulled the strings behind the shooting. This would be the only way to bring justice for Kem Ley, his family and all the people who loved him, he said.
"What Kem Ley has done stays in all citizens' hearts," he said, referring to the scholar's political commitments and speeches which were pushing for more social justice in Cambodia, often against the political establishment of the Cambodian People's Party.
Human Rights Watch said that the trial intended against Choub Samlap was designed to send the case away and close off any further investigations into the real masterminds behind this political killing.
"Six years on from the shocking daylight assassination of Dr. Kem Ley in Phnom Penh, his family and friends are no closer to the truth about who ordered him killed and why. No one believes the absurd fantasy that scapegoat Oeuth Ang told at his rushed, kangaroo court trial," Phil Robertson, deputy Asia director of the organization, said.
Kem Ley remains a martyr to the cause of justice & human rights for the poor and disadvantaged people of Cambodia, he added.
Puth Kolka, project manager of SILAKA NGO said the loss of Kem Ley was a loss of valuable resources. Besides the man, he also regrets the disappearance of a scholar who dared to tell the truth, bringing a new narrative to the democratic debate.
"I have a great memory of him speaking in a workshop and sharing his knowledge and information with the audience. His legacy will be forever remembered, I still remember him," he said.
Kolka said that he wishes to see more people like Kem Ley, because it will take more than one Kem Ley to contribute to bring change among Cambodian society.
Kolka also believes the reasons brought by Choub Samlap to explain Kem Ley's assassination were unacceptable and were probably false, "even though I am not a judge," he concedes.
"Justice for Kem Ley remains unattainable for him and his family," he said.
Sroeurn Theara, a 22-year-old student majoring in English at the Human Resource University said that the loss of Kem Ley was like losing an important part of the social body, as he was a man of knowledge, virtue, truth, equity, and promoted a simple way of life.
"As a young person, I want to see more people like him because they are unfortunately too rare. I can engrave the name of Kem Ley as a true testimony and a great symbol that young people should learn from, to participate in social work and politics with the will to tell the truth," he said, adding that daring to put the spotlight on injustices was actually a patriotic act as it helps society as a whole.
Related Articles