Civil Society Groups Demand Release of Forest Activist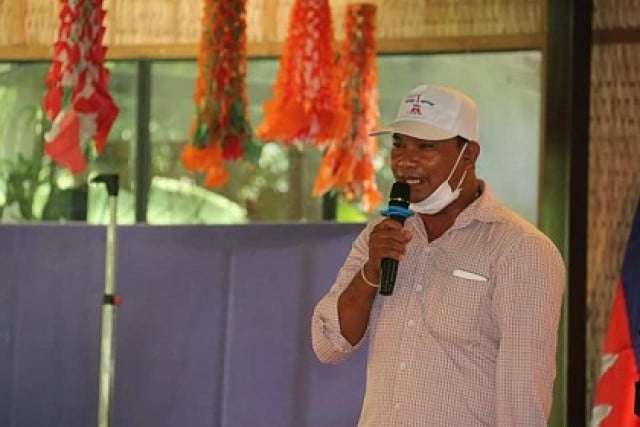 Changes to charges 'violated fair trial rights'
PHNOM PENH--More than 100 civil society groups have joined together to demand that the Ratanakkiri provincial court drops charges against forest protection worker and land activist Chhorn Phalla and releases him unconditionally.
Phalla was jailed for five years late last year for allegedly clearing forest land and enclosing it to claim ownership.​​ As of February, he has been in prison for more than four months.
First, he was charged with felling trees, encroaching and clearing forest land, setting forest on fire and bulldozing forest land to claim ownership.
The 113 civil society groups said the court changed this to clearing forest land and enclosing it to claim ownership.
They said that the change violated Chhorn Phalla's rights to a fair trial because it affected his right to have adequate time to prepare his defense.
"The Ratanakkiri Provincial Court's unfair decision against Chhorn Phalla amounts to judicial harassment and aims to threaten, intimidate and frighten him, as well as other environmental activists who are actively involved in protecting forests and natural resources," the groups said.
They said Phalla, who has been a forest protection activist for more than 10 years, did not clear forest land and enclose it to claim ownership.
Instead, he regularly monitors forest and natural resources destruction and documents evidence to file lawsuits against those who destroy forests and natural resources.
Phalla's lawyer, Sam Titseyha, said that after the court convicted Phalla, he filed an appeal with the Tboung Khmum regional Court of Appeal. No date has yet been set for the hearing.
"I went down to the place where Phalla lived and saw that he did not encroach on any forest land. On the contrary, he is always active in preventing encroachment on forest land for sale," Titseyha said.
"He is a forest protection activist who should have been encouraged and not charged."
The civil society groups urged the judiciary and relevant institutions to drop the charges and release Phalla unconditionally.
"We hope the government will remember its obligation to preserve and protect the environment and the natural resources of Cambodia and to guarantee the rights and freedoms of individuals to take part in the life of the nation," the groups said.
Related Articles
December 20, 2021 9:59 AM