Climate Change and Rising Costs Squeeze Cashew Farmers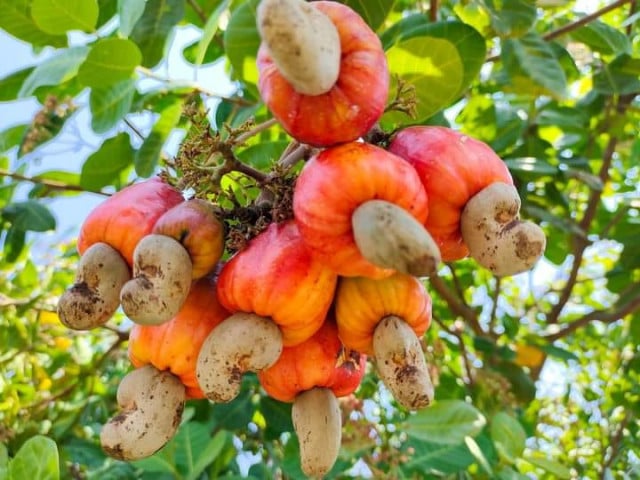 Concerns are rising among cashew farmers as prices of fresh cashew plummet because of heavy rains while operation costs are on the rise
PHNOM PENH – Nok Bunthorn, a cashew farmer in Kampong Thom province, knows that his harvest season is not going to be good. "It rained a lot this year, when cashews started to grow. Because of the humidity, flowers and pods withered … The cashews that could still grow, grew very slowly. So the quality of my crops is not good," says the farmer.
All over Cambodia, heavy rains during the early weeks of the rainy season, partly attributable to climate change, impacted the production of fresh cashews. The price of the nut dropped from 5,000 riels ($1.23) to 3,000 riels ($0.74) per kilogram, barely covering the production cost, which increased with the rising price of farm inputs.
"The cost of fertilizers and other chemical substances have doubled, while the price of labor remains high," says Nok Bunthorn. "With the rising costs on one side and the dropping selling price on the other side, I lost around 20 percent of my revenue," estimates the farmer.
Bunthorn added that, despite seeing his revenue melting, he understands customers don't want to buy expensive cashews if the quality is not there. He thought about cutting down his cashew trees, but eventually decided not to, as he would spend a lot of money and time growing another type of crop.
The Director of the Ratanakiri Provincial Department of Agriculture, Forestry and Fisheries, Soy Sona said he is concerned that the price of fresh cashews might plummet alarmingly.
"The declining price of cashew is surely a problem. Buyers are picky because they want quality that farmers can't provide this year. And the cost of transportation increased as the price of gasoline rose, adding tension to the market," he said.
Are processed cashews the answer?
But the fall in selling price is only about fresh cashew nuts. Processed cashews remain expensive on the market
Leung Manuth owns Chamkar Leu Cashew Nut Enterprise in Kampong Cham province, a small-scale handicraft cashew nut processing facility. She started her business in 2016 as an add-on activity to her 20-hectare cashew plantation. Her enterprise also purchases cashews from the Cashew Nut Association of Cambodia (CAC).
Manuth said she purchases cashews from the farmers at a price ranging from 5,500 riels ($1.35) to 6,000 riels ($1.48) per kilogram. She then adds to it the processing and labor costs, leading to an expensive selling price. "Around 50,000 riels ($12.30) per kilogram," she said.


Nok Bunthorn, a cashew farmer in Kampong Thom province, knows that his harvest season is not going to be good. Photo by Tep Pitu

"After peeling the shell, we only get 100 to 200 grams of processed cashews from 1 kilogram of fresh nuts. In addition, we have to pay the workers for peeling, cooking, and packing cashews. So the production costs are not low, which explains why processed cashews are expensive," she said.
Manuth processes and sells two types of cashews: pink skin and skinless cashew nuts, which is the original taste.
Being doubly involved in the industry as both a farmer and a processor, she'd like to see a more prosperous cashew nut sector, supporting the farmers' livelihood.
Lack of processing factories​
In addition to climate change and the rise of production costs, the main limit to prevent the prices from falling down is that Cambodia lacks processing facilities.
"Despite the demand being high in the country, there is no cashew nut processing factory," says the Director of the Cashew Nut Association of Cambodia (CAC), Uon Silot. "There are only a few artisans who are able to refine the nuts, but the scale is not enough."
Cashew nuts' price is therefore set by traders in neighboring countries, who buy Cambodians fresh cashews to process them.
"Nearly 100,000 among 800,000 hectares of cashew plantations have been cleared by farmers after the price of cashew nuts fell and the quality deteriorated. Therefore, we should have a warehouse to store the dried cashew nuts in community areas as the CAC has," Silot said.
"One more thing is that companies from neighboring countries who buy our cashew nuts are far away. So, they need a lot of time to transport, which requires the association to store dried cashew nuts to avoid getting damaged," he added.
Silot also encouraged cashew farmers who face this problem not to be demotivated, and especially entrepreneurs who process cashew nuts to strengthen their processing handicrafts.
Not only do they promote local production, but they also create more jobs for local people as well as a cashew nut market for the farmers, he added.
In the last three months of 2022, Cambodia exported only 270,000 tons of fresh cashew nuts, a decrease of nearly 40 percent compared to the same period in 2021.
Related Articles