Clinging to Life: Cambodia's Artists are Adapting to the Pandemic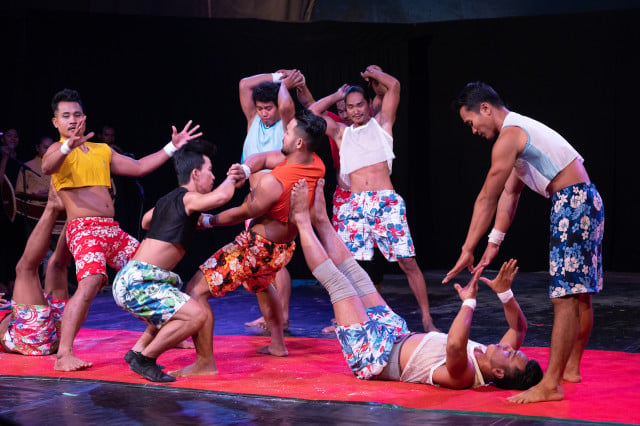 Michelle Vachon and Phoung Vantha
March 23, 2021 1:35 AM
The first of a two-part series looks into how the COVID-19 pandemic has ravaged Cambodia's flourishing arts sector, which has been forced to change course due to the loss of tourists
PHNOM PENH--From the very beginning, the effects of the COVID-19 pandemic on Cambodia's arts and culture sector were brutal.
"COVID-19 started to break out in March 2020 last year: It was during our big event, the celebration of Cambodia Film Festival," said Chea Sopheap, executive director of the Bophana Audiovisual Resource Center.
The festival, which had started on March 14, 2020, featured 130 films from Cambodian and foreign filmmakers that were to be shown during 160 screenings at 10 venues. The event usually attracted around 20,000 people.
On March 17, 2020, the Cambodian government decreed the closure of all KTVs, cinemas and theaters nationwide following the announcement one day earlier that schools and universities had to close until further notice to prevent the spread of COVID-19.
"We…shut down our festival while we were in the middle of [it]," Sopheap said.
"It has been a year…and we face problems," he said. Bophana is an audiovisual library and research center that also runs filmmaking training programs and produces documentaries. While some of these programs could be conducted online, others could not and—in some cases—this has meant dropping projects that were generating funding for the center, Sopheap said.
"[W]e are all trying to live a new way of life in terms of individual life and collective life…We don't leave anyone behind: We work hand in hand to fight COVID-19, and [deal with it] emotionally," he said.
This has been a rough year for arts organizations and artists in the country, and there still is no end in sight.
When the pandemic hit the tourism sector one year ago, the Cambodian government took measures to help businesses and workers of that sector who were directly affected when the flow of visitors abruptly stopped.
But no such support was provided artists and arts organizations whose income in many cases also come from foreign visitors and tourists.
Tax Department Denies Artists' Appeal
Although artists the world over are used to periods of hard times, many artists and art organizations in Cambodia fear they may not make it out of the pandemic without some government support.
But so far, no financial assistance or even tax exemptions as those granted to the tourism industry have been given to arts and culture organizations or artists whose income also often depends on tourism and foreign visitors.
In April 2020, Minister of Culture and Fine Arts Phoeurng Sackona wrote to Aun Pornmoniroth, minister of Economy and Finance asking, she said, "understanding, tolerance, and intervention," to extend some tax exemptions to arts organizations and artists as had been done for the tourism sector.
In 2011, she wrote, the arts sector was already contributing 1.53 percent of the gross domestic product and provided employment for nearly 42,000 people. And these figures have no doubt increased since.
"[The pandemic] has created a revenue crisis and the arts institutions were forced to suspend employment contracts, cut salaries and reduce the number of staff/artists, which also affected their family income," Sackona said.
The minister was following up on a request made by major arts organizations in the country.
"When we were at the peak of the pandemic last year, Cambodian Living Arts (CLA) approached other art organizations like Bophana, Epic Arts [an NGO offering education and arts training for people with physical disabilities], Phare Ponleu Selpak, Phare the Cambodian Circus in Siem Reap—the main art organizations and companies—and we came together to identify the best process for asking for support from the government to help the art community," said So Phina, program manager of knowledge, network and policy for CLA.
"So the first thing that we did is collect the research, collect the impact on artists and the art community…on art organizations…on music, the original music industry and…among the independent art community," she said. The organizations also researched what countries such as Singapore, Hong Kong and Australia were doing to help arts organizations deal with the pandemic to give examples of what could be done to support the art community, she said.
Their findings were then sent to Sackona and, in her letter, she asked Pornmoniroth for a permanent exemption of the tax on leisure services, a 2-year exemption of payroll tax, income tax, tax withholding on performing artist services, and value-added tax.
In response, the tax department asked her for a list of arts organizations paying taxes, which was done, Phina said. "It sounded positive but…they did not [consider] our position unfortunately.
"They sent us an official letter explaining to us why they were not giving us an exception to the tax," she said. "The letter said the artists have the responsibility to pay tax like other citizens."
The Ministry of Culture believes a committee should be set up to collect data on how much the arts and artists contribute to the country beyond taxes, Phina said. But at this point, there is no research material available on the issue, she said.
When contacted, various spokespeople from a range of ministries seemed unaware of how the pandemic had affected the arts and suggested that artists affected register for the government's IDPoor Program, which provides registered families monthly payments of $30 in Phnom Penh and $20 in the countryside.
Trying to Make Up for the Loss of Tourists and Visitors
Travel restrictions both internationally and within Cambodia have been implemented at various points over the pandemic, but performing arts organizations have been more directly affected as many depend entirely on visitors to generate income.
And while some artists held events online, the magic created between artists and the public during a live performance is not easy to reproduce in virtual shows.
Still, on March 7 and 8, 2021, the NGO Phare Ponleu Selpak went ahead and staged a 24-hour non-stop circus performance to establish a Guinness World Record. This had never been attempted and it may take several months to find out whether Phare succeeded, said Morgan Darrasse, the NGO's media and marketing coordinator.
During the show, Phare called on people in Cambodia to donate $1 online to support the NGO. Thousands responded and kept on contributing even after the show, she said, with the NGO raising more than $10,000.
This greatly helped although an additional $100,000 must be raised to cover costs till the end of the year, said Osman Khawaja, Phare's executive director.
Located in Anh Chanh Village on the outskirt of Battambang City, the NGO has run free arts-training programs for poor Cambodians since 1994. The Phare campus includes a primary and secondary school attended by nearly 500 students and staffed by the Ministry of Education. A kindergarten staffed by Phare and attended by more than 200 children was recently added.
Nearly 600 students are enrolled in the arts school that offers training in visuals arts, performing arts, circus and music. While all students are welcome, they tend to be from poor families as those from comfortable or wealthy families don't tend to study for careers in the arts, Khawaja said.
Phare also serves as a community center for underprivileged youth, he said, adding that closure would mean a return to the streets for many children.
"[T]here is a high chance that many of them would slide into difficult situations," he warned.
So, getting funds is crucial, Khawaja said. "It's been very tough as we were very proud…as a non-profit organization to be 70 percent self-supported through our own programs in Battambang, the students' shows [for the general public], and bookings and activities and the social enterprise in Siem Reap that was sending royalties from the shows."
A Business Model Upended
Phare the Cambodian Circus in Siem Reap City was established as a social enterprise whose profits generated through circus performances go to support Phare the NGO in Battambang City. Moreover, circus artists trained at Phare the NGO get jobs in the circus company after graduation.
But the pandemic has changed all this since there are no tourists in Siem Reap Province to attend the performances.
"We needed to find them some opportunity to earn an income," said Khawaja. "So this opportunity at the [FT Gallery and Studio] came along to launch a show in Phnom Penh and we've engaged the recent graduates in their first shows after their graduation."
The performances at this recently-opened art space were held twice a week from mid-January through the end of February 2021, and were sold out. "It's good for them [students] to be on stage, to be performing again in front of an audience," Khawaja said, adding that he hoped Phnom Penh may prove a good destination for future performances.
In the meantime, the social enterprise Phare the Circus is struggling in Siem Reap City. In pre-pandemic days, that circus contributed to keeping tourists in Siem Reap City after they had toured Angkor—prolonging visitors' stay in the area has been a long-time goal of the Ministry of Tourism.
When international tourists stopped arriving one year ago, the circus company was not immediately affected. "We had some savings and we also had people continuing to support us, so we survived until today," said Huot Dara, president of Phare the Cambodian Circus. Surviving has involved slashing salaries across the board, from management to artists, and temporarily reducing staff, he said.
Phare tried various formulas to bring in funds, including donation campaigns but so far has not been able to cover all costs—rather it has kept 47 artists 120 staff employed and paid.
"Most of them are married with children. Those who are not married have parents and families to support," Dara said.
Phare came up with several formulas to attract Cambodians and expats such as having some of Siem Reap City's best Cambodian chefs offer small-portion dishes at bargain prices prior to the shows, and local artists give pre-show performances.
Still, the number of performances had to be reduced due to the limited potential audience, which is Cambodian and expat visitors, Dara said. "The locals here are so affected by tourism themselves, they don't have money to spend. So the only hope actually is people travelling from Phnom Penh. And that's why we only perform Friday and Saturday because Sunday they go back to Phnom Penh."
While those few performances don't bring in profit, they have kept the artists working, Dara explained. "They are circus artists: Regular rehearsals and training is very important for the art to continue."
Not getting the government benefits offered to the tourism industry has really affected the circus. "[W]hen the government says they lift the tax of the tourism sector, they mean…hotels, guesthouses, restaurants and tour operators," Dara said. "We are a tourism activity, we are a tourism-related product." And yet, he said, "we are paying tax today. The staff and artists who are receiving little salary are still paying income tax."
He added that the government's classification of tourism also excludes those artists and staff who are out of work from receiving the $30 monthly financial support.
In the meantime, Phare the Cambodian Circus is trying to secure funding with financial partners as it may take years for tourism to resume in the country: This may not happen before 2025 or beyond, Dara said.
Drastic measures implemented early
One other major arts-and-culture organization affected by COVID-19 is Cambodian Living Arts (CLA), an NGO that has been promoting and supporting the development of the country's traditional artforms since 1998.
Anticipating what was to come, the organization acted as soon as the Cambodian government decreed that theaters had to close in March 2020, said Phloeun Prim, CLA's executive director.
"So, basically, what happened in March [2020] is that we decided to take a very difficult decision, which is to restructure some…activities," he said. "[W]e…shut down every activity that was related to earned income coming from the tourism industry because we saw that, because of the pandemic, the tourism industry would be the first impacted industry."
CLA had been holding daily performances of Khmer classical and traditional dances at the theater behind the National Museum in Phnom Penh. Since the audience consisted mainly of tourists, this was immediately stopped.
The decision was not taken lightly, and this was done according to Cambodia's legislation and internal layoff and severance-pay policies, Prim said. "And when the government policy allowed us to do live performances last September, we initiated our cultural season back locally with local audiences and presented the work of six artist groups that represented about 80 artists that we funded during the pandemic.
"We kept, let's say, probably 70 percent of Cambodian Living Arts kind of activity," Phloeun said. "We kind of cut a leg, but by cutting that leg, we were able to stabilize all the other programs and we funded artists during the pandemic to create works, to rehearse…So we cut a leg but we were able to keep the rest of the body strong—this is the way to say it."
CLA also turned to the internet to hold an online event that involved musicians, art institutions and experts across the world. In 2017, 2018 and 2019, the NGO had held performances of "Bangsokol, a Requiem for Cambodia," which the NGO had commissioned to mark the 40th anniversary of the end of the Khmer Rouge regime in Cambodia. Premiered in Australia, the work was performed by musicians and singers from four countries in France, the United States and Cambodia.
The online event held in mid-December 2020 involved participants located in different time zones around the planet including the artists who had performed the requiem. "We realized that, technically, it was complicated to do what we had planned, that is, mixing film screenings followed by discussions with live performances in-between," said Jean-Baptiste Phou, the festival curator. "So we had to look into the technical aspect because this involved too many platforms."
But holding this festival was important in view of the situation in which people find themselves due to COVID-19, he said. "[This] is a way for us to connect on a somewhat spiritual level: music in this context of the pandemic…of which we still cannot see the end."
A traditional performing-art association in jeopardy
Another group, Kok Thlok, that specializes in traditional Cambodian dance and theater forms, including shadow puppet theater, has found the situation especially grim, according to Phoeung Kompheak, director of this artist association.
Several of its members are teachers at the Secondary School of Fine Arts or the Royal University of Fine Arts. They had been contacting schools and universities to convince them to bring their students to see Cambodian traditional theater and shadow puppets shows at their open-air theater, which is located in front of the National Library near Wat Phnom in Phnom Penh. But the pandemic put an end to this project, Phoeung said.
"It's very difficult for the artists," he said. In addition to not holding regular performances at the theater, he said, "[t]here is no wedding, no traditional ceremony for special events, no traditional performance organized by hotels for visitors. And no activity means no money: It's very hard for them."
Return to Normality May Take Years
If there is a lesson that artists and arts organizations have learned during the pandemic, it is that they cannot rely on only one source of funding.
"It is much more difficult here in Cambodia because…in some countries, they have relied on heavy subsidies from the government to keep afloat," said Phloeun Prim of CLA. The lack of government support in the country has forced independent organizations to reduce their activity and reshape their approach to funding, he said.
While some organizations have successfully generated income through tourism over the last few years, the dependency on foreign visitors has hit them hard during the pandemic, Phloeun said. "So I think, you know, for cultural organizations, the balance of income is so important and the diversification of income is so important locally, regionally…Within kind of this pandemic world, we have to rethink how we run our activity."
Meanwhile, uncertainty lingers: Even the government projections for recovery vary from three-to-five years or even seven years in a worst-case scenario, Huot Dara of Phare the Cambodian Circus pointed out.
"Nobody can predict anything now because so many factors are not predictable: When will the vaccine be available to everybody, when will air travel resume, when will consumer and air-travel confidence return, and the ticket prices and the economy around the world.
"These are a lot of factors," Dara said. "So at this stage, our hope is that, as soon as the vaccine is available, at least there will be regional travel, at least there will be neighboring countries. And at least this will allow us to keep going.
"And I hope COVID teaches us many lessons including being selective of what kind of tourism we would like in order to benefit the local economy and not deteriorate the landscape, the architecture, the temples and the culture of the local people," Dara added.
Part 2 on March 24 will look at the tough situation caused by the pandemic for art galleries and small venues in the country.
Related Articles
December 27, 2021 3:53 PM