CNRP Trial Ends in Long Prison Terms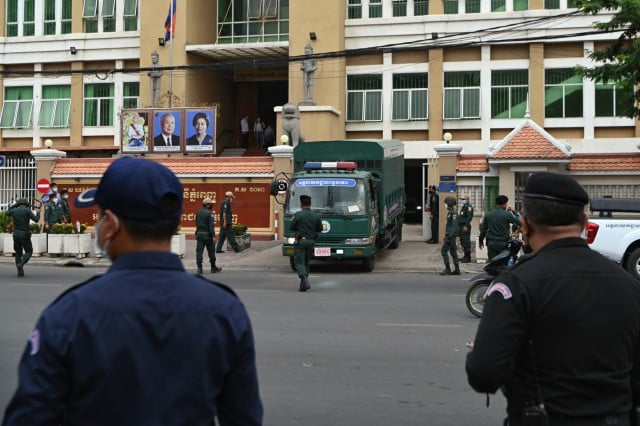 Top leaders free in exile but activists face jail
PHNOM PENH--Sam Rainsy and six other exiled former opposition leaders have been sentenced to ten years in prison. Another 14 were jailed for five years on March 17 by the Phnom Penh Municipal Court.
The six former Cambodia National Rescue Party (CNRP) leaders were Chulong Somura, Mu Sochua, Tok Vanchan, Nuth Rumduol, Ho Van and Eng Chay Eang.
All were convicted of incitement, inciting military personnel to disobedience and conspiracy.
Judge Ros Piseth ordered authorities to arrest them and remand them in custody.
The court also convicted 13 other CNRP members, including Thai Sokunthea, Long Phary, Khim Phana, Sok Chantha, Peat Mab, Keo Thai, Chum Chan, Sun Thorn, Ngin Kheang, Yim Sareth, Nhem Van, Khuth Chrek and Chhon Bunchhat.
Their five-year terms were shortened to three years and eight months with the remaining sentences suspended. They had been convicted of conspiracy and incitement to commit acts that cause serious chaos to social security.
The other defendant was Hin Chhan was sentenced to five years in prison but the sentence was suspended.
Defense lawyer Sam Sokong said that of the 14 activists, Chhan is ill and out of jail, while the other 13 are in custody.



Sokong expressed disappointment with the court's decision, which he said was unfair to his client.
He said that based on the facts and evidence, his client did not commit the offences. His client's expression of views is a right guaranteed by the constitution.



He said the case is politically motivated and should be resolved politically rather than legally.
"Clients have asked the lawyers to prepare an appeal to reconsider the Phnom Penh court's decision regarding the sentence," he said. "And the lawyers have been granted the right and prepared an appeal for them in accordance with legal procedures."
The wives and family members of the activists who were sentenced cried and shouted outside the court that the decision was unfair.
One woman whose husband has been in jail for two years called for international help because he did not commit any offence.
Human Rights Watch said the convictions came after an unfair trial in which no credible evidence was brought. The trial appeared to have been aimed at sidelining political opponents of Prime Minister Hun Sen and the ruling Cambodian People's Party (CPP).
Phil Robertson, deputy Asia director at Human Rights Watch, said the mass trial and convictions of political opponents on baseless charge was a witch hunt that discredited the government and the country's courts.
"Foreign governments, the United Nations and donors should call out this attack on the political opposition and Cambodia's remaining vestiges of democracy," he said.
Sokong said Sam Rainsy alone had been sentenced by Cambodian courts to totals of between 40 and 50 years on various charges.
Rainsy, whose attempt to return to Cambodia on Nov. 9, 2019, ended in Hun Sen issuing a travel ban on him and other opposition party leaders, has not stepped foot in Cambodia since he fled in response to the Supreme Court dissolving the CNRP in 2017.
Hun Sen had scores of CNRP activists and supporters arrested in response to Rainsy's failed plan.
Related Articles