Comic Strips Carry Social Message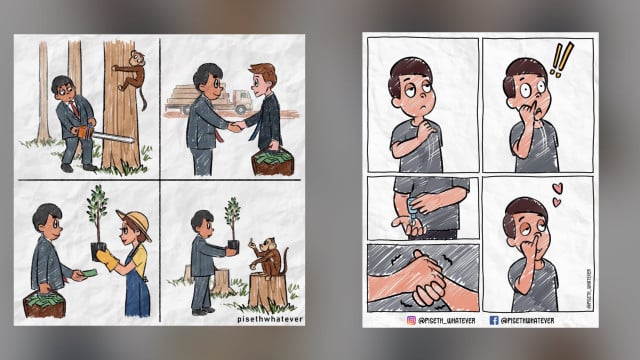 PHNOM PENH – Cartoonist Keo Piseth creates comic strips to reflect social issues, adding humor to educational content. Some of his comic strips contain dialogue while some have none, leaving readers to get the idea.
The work of Piseth, 28, from Siem Reap province, is known as Piseth's Whatever on Facebook. Its content, combining daily life, work, social issues and other stories is getting a lot of attention.
Even without words, most people understand the humor and sarcasm.
"Some comic strips have texts because the story and the humor are based on words," Piseth said.
"For comics without a script, the story is based on the action of the characters. The content is universal. It can be understood without knowing the language, for example, Mr Bean.
"We observe everything happening in society while some real stories make me laugh, which motivates me to draw a picture just to share," he said.
Recently, Piseth posted a comic strip showing a man cutting down a tree for money. After that, the man bought a seedling. He tried to give the seedling back to a monkey but the animal raised its middle finger to him.
Users of the social media platform interpreted the comic strip based on an event that was widely talked about in the previous week.
This post got a lot of reactions and shares from the public, who showed their support and described the comic strip as "meaningful which reflects society".
Piseth is happy at the growing popularity of his comic strips, especially when they are socially relevant and concern everyone.
"I'm glad to get so much support. It shows that I'm not the only one who sees this issue," he said, adding that drawing cartoons is a job that he loves and has been doing since 2016. It is a way to share his ideas and stories with many people.
He usually gets ideas from hanging out with friends and having humorous conversations or joking with other people.
"At first, I just wrote a story to post, but it required visuals to look funny. So, I combine the stories I write with my drawing ability," he said.
"I'm glad to be able to make these comic strips and to have as many fans and supporters even if this kind of comic strip is not new abroad."
Originally written in Khmer for ThmeyThmey, this story was translated by Sam Sopich for Cambodianess.
Related Articles