Coming Home in COVID-19 Times: Migrant Workers Follow Cambodia's Directives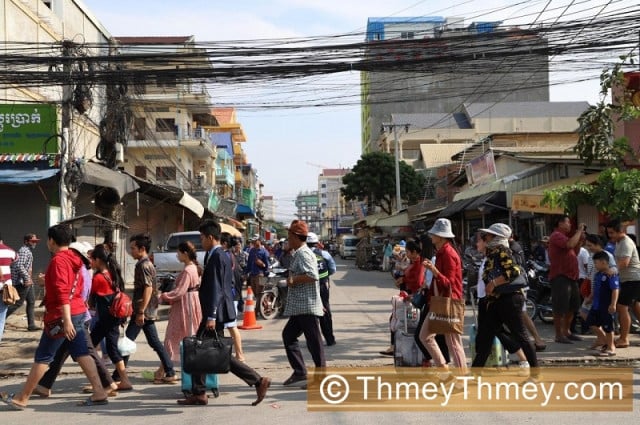 Po Sakun
April 11, 2020 10:23 AM
They submit to social distancing and/or quarantine to protect those around them

PHNOM PENH—Last March, more than 50, 000 Cambodian migrant workers came home, returning from Thailand before the Thai authorities closed the border on March 23 as a measure to curb the spread of the Coronavirus Disease 2019 (COVID-19).

Some of them have strictly followed the instructions of the Cambodian health officials and the local authorities to put themselves in self-isolation and stay away from others to make sure they would not transmit the disease if they were carrying it.

Others have done social distancing but at home. Despite feeling isolated and showing no symptom of COVID-19 infection, workers interviewed remain committed to following the health authorities' directives and try to cope with the situation the best they can for the sake of their communities.

Having worked in Thailand for nearly seven years, Pok Samnang decided to return to his hometown of Takeo in early March to look after his wife who recently delivered a baby. However, he continues to stay away from family and friends to keep them safe from the virus even though the required 15 days are over, he said.

"Unlike previous times when many people came to visit me at home, this time there is no gathering at all with friends and relatives as villagers are afraid of the virus," the 33-year-old man told Thmey Thmey earlier this month.

"I oddly felt a little bit upset and lonely, but how can we blame others for not socializing with us [migrant workers]. They are afraid of me and I am afraid, too. Everyone is afraid now," he said. "Even in my family: Since I arrived on March 10, I haven't touched or played with my newly-born baby.
"I stay alone outside the village while my wife and my children stay with my parents," Samnang said. "I continue to practice self-isolation because I want my family to be safe."

As of April 11, Cambodia had registered 120 cases of COVID-19. Among them, 75 patients have recovered and the other 45 remain hospitalized. The disease has claimed no life in the country. But the authorities have been appealing to people to take measures ranging from basic hygiene to social distancing to protect themselves against COVID-19.

Len Chouern, who has returned to Oddar Meanchey Province, said that she has not isolated herself from others. "I didn't carry out self-isolation in my family when I arrived in my hometown on March 10…because before I left Thailand, my workplace checked my health for the virus. And when I arrived at the border, I was checked again before I was allowed to go home," the 48-year-old migrant worker said.

Even though she has not done self-isolation, Chouern has obeyed the stay-home order. The local health authorities visit her every four or five days to check on her and take her body temperature, she said. "It has been more than 15 days since I arrived home. But I still stay home: There is not anymore our old habit of meeting with other villagers."

Sarouern Srey Yam, who worked in Bangkok as a food seller for nine months, was not asked to stay away from her family when she returned home to Oddar Meanchey Province last March. "At the Cambodian border, there was a body temperature check and since my return, I have had my health checked two times already and there has been no symptom of the virus infection," the 36-year-old woman said.

Srey Yam also has had to maintain social distancing, she said. "When I arrived, my village chief informed me that anyone returning home after me would be required to stay isolated at schools," she said.

In an interview with Thmey Thmey, a local official in Oddar Meanchey Province said that migrant workers returning from Thailand and exhibiting no symptom of COVID-19 infection are permitted to stay with their families. "Those migrant workers are allowed to stay home unless they feel sick," said Mon Hai, chief of Krasang Village in Bosbov Commune.

"In my village, there are nearly 30 people who returned from Thailand," he said. "Most of them have arrived since mid-March and they've got no [health] problem.

"But we continue to closely monitor them and do our work on the awareness-raising campaign to make sure they are well and stay safe," Hai said.


Related Articles