Commerce Ministry: No Plan to Ban Alcohol Advertising Yet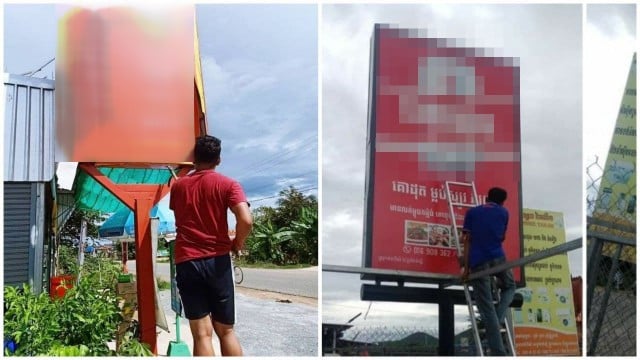 Lay Sopheavotey &Teng Yalirozy
May 24, 2021 9:20 AM
As calls grow for greater restrictions on the advertisement and sale of alcohol following temporary bans across the country, the government has said now is not the time.

PHNOM PENH--A lack of existing legislation has been blamed for the lack of action against alcohol advertising in Cambodia, according to the Ministry of Commerce.
Penn Sovicheat, spokesperson for the Commerce Ministry, said that no laws are currently in place that would prohibit the advertisement of alcohol on a national level and that there are not yet any concrete plans to press ahead with a ban.
This being said, Sovicheat added that commercials and advertising for alcoholic products must be appropriate and unobtrusive—policies are already in place to ensure this, he said.
While noting that alcohol abuse is common in Cambodia and beyond, Sovicheat said that alcohol is a normal commodity and that it differs from cigarettes, which have been regulated by the Ministry of Health in accordance with the World Health Organization on account of the health risks they pose.
He went on to note that the ministry is currently looking into the impact of advertising—particularly with regard to alcohol, cosmetics and medicine—but will not look to restrict the promotion of any of these products without the full backing of scientific evidence.
For that reason, the Ministry of Commerce has recently drafted a sub-decree on the management of all forms of advertising for all kinds of goods to protect consumer rights. The sub-decree would require advertisers to present a greater degree of honesty and transparency about their products.
"Advertising must be honest, truthful, effective, and designed with integrity. Moreover, if there is a reward associated with the product, it must be transparent how realistic that reward is," he said. "The preparation of the sub-decree is due to the observation that the promotion of alcohols, cosmetics, and medicines can cause consumers to continuously drink or buy more to chase after the advertised rewards."
According to Sovicheat, the Consumer Protection Law of 2019 does not regulate advertising, allowing certain industries to advertise in ways that could be harmful to Cambodian consumers.
However, the Consumer Protection Law includes definitions of both intentional and unintentional fraud and business owners can lose their license and be fined up to 50 million riel—roughly $12,250—if they fail to portray their products accurately.
If such fraudulent behavior leads to harm or loss of life, business owners can face between six months and five years in prison.
While a draft Law on Trade Competition is reportedly in the works, according to Sovicheat, the Ministry of Health has been working on a draft Law on Alcohol Control since 2015, although progress has long since been stalled.
Or Vandine, Health Ministry spokesperson, declined to comment on the matter.
"The initial draft law is still at the Ministry of Health…until now this draft law has not been brought forward for discussion yet. Our team needs to collect elements, ask users and gauge public opinion," said Sovicheat.
Despite this lack of progress, authorities can still take action against unethical or inappropriate advertisers, but don't, according to Pa Chanroeun, president of the Cambodia Institute for Democracy.
"The draft law on alcohol control is stuck for no apparent reason, and the government should act quickly because this law would help reduce the anarchy of alcohol. Although this law is not yet in place, the government can use its powers to take action in these cases," Chanroeun said.
But whether the government will be focusing on this issue amid the fallout of the COVID-19 pandemic and the ongoing public health crisis remains to be seen.
Phay Siphan, spokesperson for the Cambodian government said a permanent suspension on alcohol promotion is not possible and few other counties in the world have done that either.
When asked about a deferment of the draft Law on Alcohol Control, Siphan referred the question to the Ministry of Health and other relevant ministries, adding he did not know what had happened to the draft law.
He said, "Any law that violates citizen's rights of freedom is hard to enforce and must be profoundly studied because alcohol is related to the needs and economy of citizens.
"It takes a long time to consider on the alcohol ads ban. In my view, it cannot be banned; however, we are researching and studying on this matter."
Echoing Siphan's sentiments, Leng Peng Long, spokesperson for the National Assembly, said now is not the time to rush through bans on alcohol or alcohol advertising, adding that more work and research is necessary.
"Working towards each law, the government needs to go through a lot of discussions," Peng Long said. "We cannot interfere with the government's internal affairs. It's not yet the time for us to speed up this problem because the government is working hard on other problems."
All of this comes after Kampong Speu Province became the first Cambodian jurisdiction to remove all billboards advertising alcohol, prompting a national debate on whether the practice was harmful enough to warrant a ban.
Governor of Kampong Speu, Vy Somnang, gave the order on May 20 in response to the COVID-19 outbreak, adding that "Kampong Speu is the province of scholars, so there should be no alcohol on billboards."
Numerous provinces have at some point replicated the temporary ban on the sale of alcohol that was enacted in Phnom Penh on April 11. Initially believed to be a measure aimed to protecting Cambodians over Khmer New Year, the ban stretched on until it was suddenly lifted on May 22.
But having seen what a Cambodia devoid of alcohol looked like, some 40 organizations have come together to campaign for tougher regulations on the sale and consumption of alcohol, along with advertisements and promotions.
Related Articles