Committee Set Up to Monitor Journalism Ethics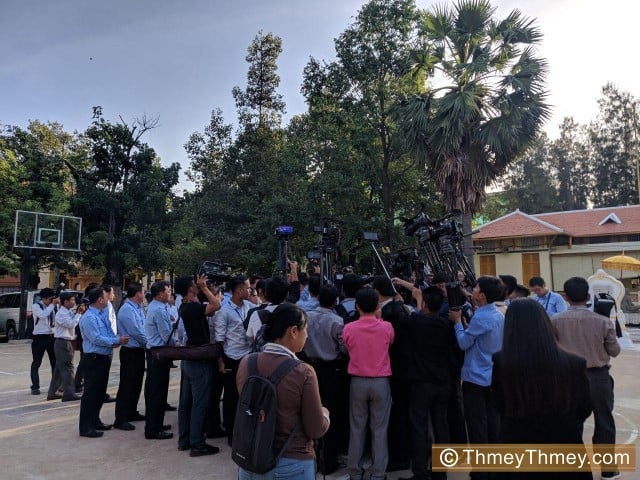 Ministry denies push to curb press freedom
PHNOM PENH--A monitoring committee made up of government and media representatives has been set up to promote journalistic ethics and professionalism.
Information Ministry spokesman Meas Sophorn said the committee, which was formed on August 2, will monitor, evaluate and recognize the application of ethics among journalists and registered media organizations.
Headed by a secretary of state, the committee consists of 14 members, including the president of the Club of Cambodian Journalists (CCJ) and the president of the Cambodian Journalist Alliance (CamboJA).
"The committee focuses on two important mechanisms," Sophorn said.
"First, it will assess and express appreciation to individual journalists and organizations who have performed their duty well in accordance with the law and regulations as well as journalistic ethics and professionalism.
"Second, the committee will work to find and punish individuals or organizations who violate ethical and professional standards. This is to make sure they change their course of action."
With these mechanisms in place, Sophorn said the committee can provide assessments to the ministry to decide whether practices violate journalistic professionalism and ethics.
Punishment for those violating ethics and professionalism will be evaluated case-by-case and based on the principles set out in the press law and related standards.
The committee will provide recommendations to the ministry to decide on punishments.
Asked if the formation of the committee could be a move to curb the freedom of journalists working on sensitive issues as well as those critical of the government, Sophorn said the committee is only to endorse the values and virtues of journalism.
"I also want to emphasize that this committee is not created to restrict or threaten freedom of the press," he said
"In contrast, it is formed to evaluate the practices of journalism by individuals and media organizations with the purpose of promoting values and virtues of journalism and to make sure the profession will be valued by the public.
"I also would like to clarify this point to avoid any confusion. Journalists legally practicing their profession in Cambodia are protected by the press law in accordance with our constitution. So, if they carry out their duty in accordance with laws, regulations and ethics, they will not face any legal responsibility."
He said it was up to organizations whether they would have their license suspended.
CamboJA executive director Nop Vy said the establishment of the committee was in response to concerns and requests from the public over misconduct by young and inexperienced reporters.
However, there could be an impact on press freedom if the new body goes beyond its remit or is not bound by specific principles.
Vy said it could be beneficial if the committee sets up an ethics guide or code of conduct applicable to all journalists and institutions.
"Currently, there are no mutual principles or code of ethics as different institutions have different internal rules," he said. "So, it is vital if it can review, discuss and create a code of conduct for everyone to follow."
Vy said that for a code of ethics to be formulated, there should be a broader and more open discussion and consultation among media practitioners in which diverse inputs can be taken into consideration.
"This common code of conducts will be vital in rebuilding the value of journalism and regaining trust in our work from the public," he added.
The committee will also be responsible for resolving public complaints about ethics and professionalism. Vy said this could be helpful as any problems that arise can be addressed on the basis of ethical principles instead of journalists facing legal cases or criminal charges.
"I think it is a good mechanism using a code of conducts as the principle to solve the problems and avoid taking severe measures against journalists, especially through the criminal code," Vy said.
"Journalism work is not a crime. Journalists only write to provide information and act as a messenger. Prosecuting them for ethical conduct goes against basic freedoms."
In terms of penalties, Vy said there were discipline processes in other professions for those who misbehave or violate ethical principles.

Additional reporting by Sao Phal Niseiy
Related Articles