Community Outbreak "Under Control, but Not Over"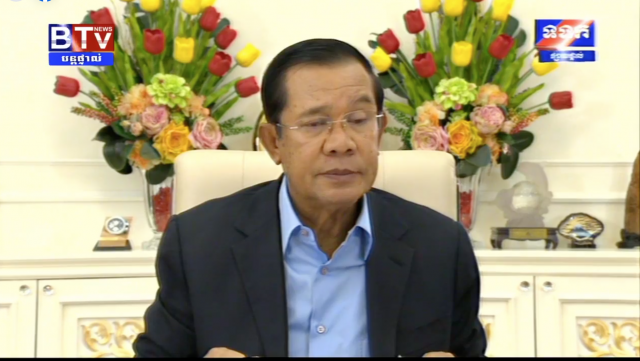 Phoung Vantha
December 15, 2020 4:52 AM
Infection in relation to the community outbreak appears to be slowing, but Prime Minister Hun Sen said health authorities will continue monitoring as one new locally transmitted case was identified today.
PHNOM PENH--Prime Minister Hun Sen said on Dec. 15 said that the Nov. 28 community outbreak of COVID-19 is under control after 15 days, but has not yet ended. Health authorities continue to monitor the situation and conduct testing.
Speaking from his residence, Hun Sen said the latest community outbreak is still ongoing and warned that there may be people who have withheld information about direct or indirect contact with COVID-19 patients. He added that some may have been afraid of the quarantine period, some may not have been tested or may not have been tested more than once.
The Ministry of Health said on Dec. 15 that three new cases of COVID-19 have been identified, with two new people testing positive for the virus after returning from abroad and one locally transmitted case linked to the Nov. 28 community outbreak.
The latest locally transmitted case involves a 1-year-old Cambodian boy whose mother (30) was diagnosed with COVID-19 on Nov. 29, both are now receiving treatment at the Khmer-Soviet Friendship Hospital in Phnom Penh.
So far 41 people have contracted the virus in relation to the Nov. 28 community outbreak.
Meanwhile the two new cases arriving from abroad did so on two separate flights.
A 66-year-old Cambodian-American woman who traveled from the United States via South Korea and arrived in Cambodia on Dec. 13 has since tested positive for COVID-19 and is being treated at Chak Angre Health Center. A further 104 passengers on the same flights are undergoing a 14-day quarantine period.
On a different flight, a 34-year-old Japanese woman traveling from Japan via South Korea tested positive for the virus after arriving in Cambodia on Dec. 13 and is receiving treatment at Khmer-Soviet Friendship Hospital. The other 64 passengers aboard her flight all tested negative for COVID-19, but are currently in quarantine in two hotels.
Three Cambodians who contracted COVID-19 in relation to the Nov. 28 outbreak have, according to the Health Minister, recovered and been discharged from hospital.
This includes Chhem Savuth, the 57-year-old director-general of General Department of Prisons, the 30-year-old wife of Savuth's personal driver and a 34-year-old man who works at the Ministry of the Interior. All three reportedly received two successive negative tests before their release.
Cambodia has, as of the morning of Dec. 15, reported a total of 362 cases of COVID-19. Of those 362, just 50 are still active cases with all other patients having since made a recovery.
Related Articles