Completion of Main Stadium at Morodok Techo Sports Complex Delayed until May 2021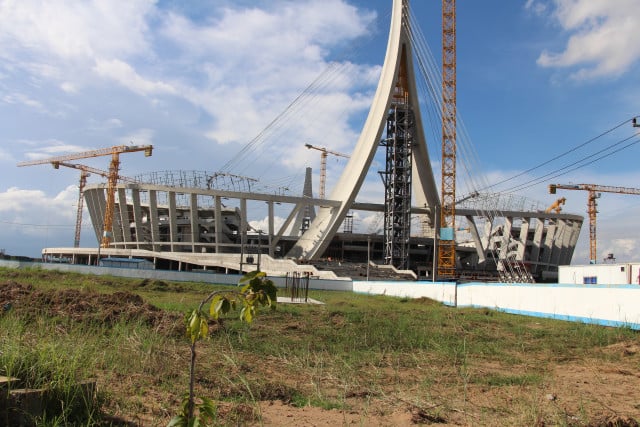 Soeurn Vanndet and Torn Chanritheara
October 6, 2020 8:19 AM
COVID-19 is believed to be the root cause of the delays, but already the main stadium is thought to be 80 percent complete.
PHNOM PENH--The construction of the main stadium of Morodok Techo National Stadium will be delayed until May 2021, according to Vat Chamroeun, secretary-general of the National Olympic Committee of Cambodia.
Chamroeun was speaking to reporters as he accompanied Deputy Prime Minister Tea Banh in an inspection of training facilities at the construction site in Chroy Changvar District on the outskirts of Phnom Penh. Banh is chair of the Cambodian SEA Games Organizing Committee (CAMSOC) and was inspecting the site to assess the progress.
The main stadium, which will be used as a venue for opening and closing ceremonies at the biennial sporting event in 2023, has faced a series of delays. It had been scheduled for completion in 2020, but the ongoing COVID-19 pandemic has resulted in major disruption, particularly felt in logistics and transporting materials to the site.
According to Chamroeun, the new date for completion will be May 2021.
"The final completion date has been changed as a Chinese company has confirmed that we will complete the stadium in May 2021. There are still much work to be done, such as decoration, glass and seat installation, all of this takes a lot of time," Chamroeun stressed.
"In particular, the interior decoration, football field and the system underneath the field, running track and VIP room require more time to prepare," he added.


Chamroeun, who is also secretary-general of CAMSOC, hoped that the main stadium will be finished as planned in order to host the 4th National Game, which is a preparatory event for the SEA Games. To date, the stadium is about 80 percent complete, he added.
The international standard stadium, covers more than 16 hectares of land and has cost roughly $158 million, most of which came from China in the form of grants and aid. The stadium will, when finished, have a capacity of 60,000 replete with a design that would allow a full evacuation in just seven minutes in the event of an accident.
While construction began in April 2017, the main stadium is the second phase of a larger project—the first being the swimming pool, indoor stadium and housing for athletes which have all been completed.


Related Articles