Conservationists Warn Irrawaddy Dolphin May Go Extinct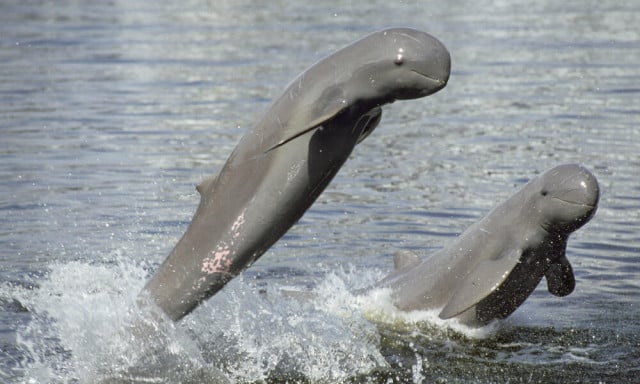 Dams, illegal fishing and mismanagement of fisheries have contributed to the near extinction of the Irrawaddy dolphin, experts from the IUCN, WWF and Cambodian Fisheries Administration warned
PHNOM PENH--Fisheries experts have warned that the decline the Irrawaddy dolphin population is a direct consequence of hydropower dams, overfishing and destructive fishing methods, which now look set to bring about the extinction of the dolphins.
Where the Mekong River runs by Anlong Chheuteal Village along the Cambodia-Laos border, the population of the Irrawaddy dolphin has dropped to just one, according to latest analysis.
The dolphins that inhabit the Mekong River have been registered as near-extinct on the International Union for the Conservation of Nature's (IUCN) red list for some time, with the main habitat found in Kratie Province.
According to a joint statement on Oct. 24 by the Fisheries Administration, the IUCN, and the World Wide Fund for Nature Cambodia (WWF-Cambodia), the total population of Irrawaddy dolphins decreased from three in 2018 to only one in 2021.
Fishing nets, changes to rivers from hydropower dams and the use of electric fishing devices have all contributed to the decline in population, the statement read.
"The Irrawaddy dolphins living in the Laos-Cambodia border are on the verge of extinction as the population is decreasing, and the experts know that they are living far away from the other groups residing in the lower tributary of Mekong River in Kratie and Steung Treng provinces," said Randall Reeves, the IUCN's director of fisheries.
Director-General of the Fisheries Administration, Pum Sotha, said that this recent decline in population of the Irrawaddy dolphin is a warning of things to come, but added that the administration would continue to work with Laotian authorities to manage fishery resources.
"All developments, especially the construction of hydropower dams, should study and evaluate the impacts on the environment, natural resources, and society before making a final decision," he said.
Uzma Khan, coordinator of WWF's regional dolphin and river conservation program, said the Cambodian and Laotian governments need to cooperate more to end illegal fishing methods and ban fishing in and around the canyon border.
"Cambodia and Laos have to work in line with each other to plan for reinstating the habitat basics by reserving and ensuring natural water flow for the lives of the Irrawaddy dolphins and other fishes," she said.
Related Articles