Constitutional Amendment Passes National Assembly Unanimously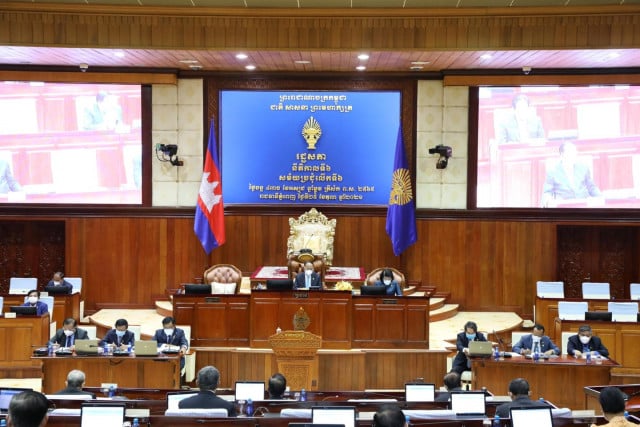 Prime Minister Hun Sen's proposed amendment to the Cambodian Constitution, which would ban dual-citizens from top government jobs, sailed through the National Assembly with no opposition
PHNOM PENH--The National Assembly voted unanimously on Oct. 25 to approve the constitutional amendment banning dual citizens from top jobs.
Heng Samrin, president of the National Assembly, said that all 111 votes available were in favor of the new amendment that was proposed by Prime Minister Hun Sen in response to allegations that he had purchased Cypriot citizenship. The allegations were reported in The Guardian and then found to be false, with the newspaper issuing a correction notice, but by this point Hun Sen had already set Cambodia's legislative wheels in motion.
As a result of erroneous reporting, the new constitutional amendment will bar dual-citizens from holding the positions of President of the National Assembly, President of the Senate, Prime Minister and the President of the Constitutional Council.
Samrin cited the importance of national sovereignty as one of the reasons for the amendment to the Constitution being rushed through legislative bodies, adding that the roles within government that will be affected by the amendment come with "a high responsibility to decide on important matters."
"As well as a strict opposition to foreign interference in the internal affairs of the nation or ordering on Cambodia's national and international policy," he said.
Related Articles