Constitutional Council: Draft Law on State of Emergency Complies with Constitution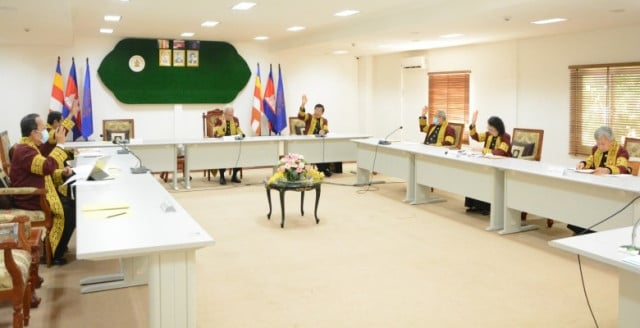 Torn Chanritheara
April 27, 2020 9:31 AM
Despite mounting criticism, the draft law is compliant with the constitution according to the Constitutional Council of Cambodia and looks set to pass swiftly.
PHNOM PENH--The Constitutional Council of Cambodia (CCC) on April 27 unanimously approved the Draft Law on the Management of the Nation during a State of Emergency. The proposed legislation is constitutional, said the secretariat of the CCC after the session on Monday.
According to the statement, the session was chaired by its president Im Chhun Lim. The purpose of the session was to debate the request made by National Assembly's president Heng Samrin the consider draft law's constitutionality.
"The Constitutional Council unanimously decided that the Draft Law on Management of Country in the State of Emergency which the National Assembly adopted on April 10 and approved without amendment by the Senate on April 17 does comply with the Constitution," the CCC's secretariat said.
The draft law now will be sent back to the National Assembly and will be forwarded to the King for signing into law. While King Norodom Sihamoni is currently in China, Say Chhum, in his capacity as acting head of state, is expected to sign the draft law with immediate effect as it is considered urgent.
The draft law consisting of five chapters and 12 articles has been fast-tracked by the Cambodian government who claims there is an urgent need for a law that determines how the government manages a crisis such as the Coronavirus Disease 2019 (COVID-19) pandemic.
The Justice Ministry was recently forced to publicly defend the draft law following a wave of criticism from human rights defenders, non-governmental organizations and international observers.
Amnesty International, Human Rights Watch and the United Nations Special Rapporteurs on the situation of human rights in Cambodia have all vehemently criticized the government for what has been described as "a naked power grab" and demand the government rewrite the law, but this looks unlikely to happen.
The government claims that the law will compliment Article 22 of the Cambodian Constitution and have argued that the constitution currently lacks a mechanism on how Cambodia will be governed if the state of emergency is proclaimed by the king.
Related Articles