Constitutional Council Rules Dual Citizenship Amendment "Possible"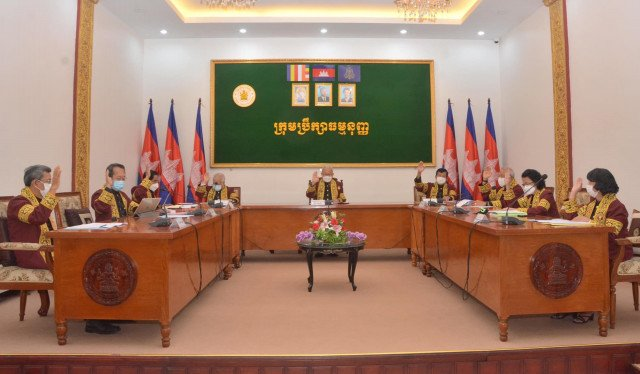 An amendment to the Constitution, spurred by an incorrect claim in The Guardian, has been approved by the Constitutional Council, meaning the amendment will progress to the National Assembly
PHNOM PENH--The Constitutional Council confirmed on Oct. 11 that the draft of constitutional amendments that would ban dual-citizens from holding four of the country's top offices is "possible" without affecting the pluralistic democratic norms enshrined in the Cambodian Constitution.
A meeting to review the draft amendment was made at the request of King Norodom Sihamoni where the Constitutional Council confirmed that the new amendment would not undermine other rules set out by the Constitution.
This comes after an article published in The Guardian on Oct. 3 incorrectly claimed that Prime Minister Hun Sen had purchased Cypriot citizenship. The Guardian amended the article on Oct. 6, following a flurry of outrage among Cambodian government institutions, all of who were reportedly instructed to decry The Guardian's reporting.
While The Guardian has retracted the claim and issued a formal apology, previous investigations by Reuters had identified numerous Cambodian elites close to Hun Sen who had purchased Cypriot passports.
However, almost immediately after The Guardian's erroneous reporting was seized upon by former opposition leader Sam Rainsy, Hun Sen announced he would seek constitutional change to forbid holders of more than one passport from serving as President of the Senate, President of the National Assembly, Prime Minister or President of the Constitutional Council.
Two days after The Guardian corrected their article, the Cambodian government moved ahead with the proposed amendment to the Constitution on Oct. 8, presenting a draft amendment that would—if passed—alter the wording of five articles of the Constitution and two articles of the Constitutional Law.
Articles 19, 82, 106, 119, and 137 of the Constitution as well as articles 3 and 4 of the Constitutional Law will be changed, according to the Cabinet meeting on Oct. 8 and today's confirmation of the amendment's legitimacy from the Constitutional Council means the draft will now be sent to the National Assembly, where it is expected to be passed, likely unanimously given the Cambodian People's Party's control of all 125 seats.
From there, the draft will be submitted to the Senate, where it is also expected to be approved, and will go to King Norodom Sihamoni to sign into law.
Hun Sen explained that Cambodia could be influenced or dominated by foreign interests if the top four incumbents, and especially the prime minister, are also foreign nationals.
"Foreign interference in this important position would be possible if the leader was holding dual citizenship," he said. "[People with dual citizenships] have to pay taxes abroad; therefore, if they do not follow foreign orders, their property abroad is confiscated. So, they are under foreign influence."
Related Articles