Construction of Cambodia's first expressway progresses steadily despite COVID-19 threat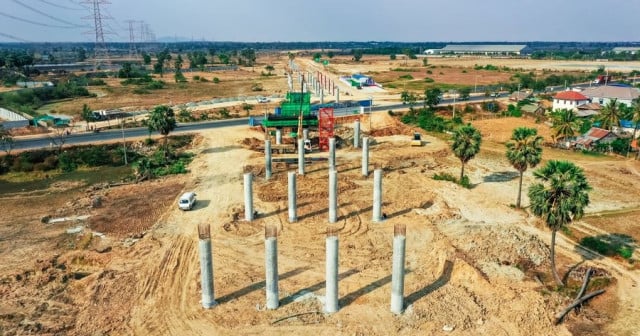 Xinhua
May 7, 2020 3:37 AM
PHNOM PENH -- The outbreak of COVID-19 has frozen many sectors in Cambodia: hotels shuttered, workers in garment factories laid off, trade disrupted, and tourism stopped.
Despite all the obstacles brought by the COVID-19 pandemic, the construction of the first expressway in Cambodia continues to make headway day by day under a joint effort made by Chinese and Cambodian workers.
Connecting the capital city of Phnom Penh and the deep-sea port province of Preah Sihanouk in southwestern Cambodia, this 2-billion-U.S.-dollar Chinese-invested expressway is expected to become the artery of Cambodia's economy.
"We understand the significance of this expressway and clearly know our responsibilities," Xu Song, foreman of a construction team of 280 workers on the project, told Xinhua in a recent interview.
"During this special period, applying strict measures to prevent the COVID-19 and advancing the construction steadily are our priorities," said Xu.
The 190-km expressway, invested by China Road and Bridge Corporation (CRBC), will have two lanes for each direction and vehicles can travel with a speed of 100 km per hour. The construction of the project began in March 2019 and has so far created 3,500 jobs.
The Phnom Penh-Sihanoukville Expressway is under construction in Cambodia, March 3, 2020. (Photo courtesy of Cambodian PPSHV Expressway Co., Ltd)
In Cambodian Phnom Penh-Sihanoukville Expressway Project Section 4, Xu told Xinhua that to ensure the security and health of workers, the company has applied strict and people-centered management.
As of Wednesday, Cambodia has recorded a total of 122 confirmed cases of COVID-19, with zero death.
"All staff need to have temperature tests every day, as offices and dormitories are sanitized twice a day, and newly recruited workers and people who returned after vacation in China need to be quarantined for 14 days," he said. "We printed posters, handbooks in Khmer to inform the Cambodian workers about the prevention of COVID-19."
"The company also provides masks, sanitizer and dormitory rooms to local workers," Xu said, adding that the health of workers was the precondition for construction.
Those measures also won support from local workers.
Chhean Pey, a Cambodian worker at the project, told Xinhua that because of the strict prevention measures, he felt safer working and living here than outside.
"The dormitory rooms are equipped with air-conditioners and are sanitized every day. Since the outbreak of COVID-19 in Cambodia, Chinese friends have offered many help. Thank you very much, Chinese friends," he said.
As a team leader, Xu also works together with his team on the construction site, filling roadbed, building culvert... and the expressway takes shape day by day.
Wearing a helmet and face mask, Xu said that working under the blazing sun in this season was a challenge; however, neither the COVID-19 nor the extreme weather could hold back the progress of the project.
Cambodian Prime Minister Samdech Techo Hun Sen said that this thoroughfare will become an important strategic road, and will contribute to boosting Cambodia's economic growth by increasing logistics efficiency in the country, and reducing cost of goods transportation and travel period.
Related Articles