Court Charges Security Guard Accused of Helping People Escape COVID-19 Quarantine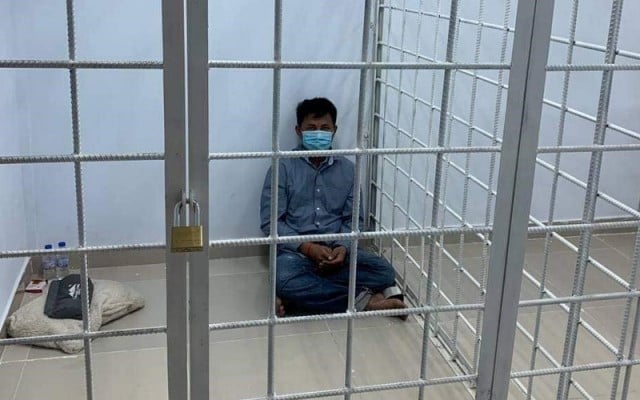 Lay Sopheavatey and Phoung Vantha
March 8, 2021 11:49 AM
The security guard could face up to a year in prison if found guilty of assisting people to escape COVID-19 quarantine facilities in Phnom Penh.
PHNOM PENH--A security guard who was accused of allowing people to leave their quarantine facilities at Phnom Penh's Sokha Hotel was, on March 8, charged with "Intentionally disobeying administrative orders on the spot."
Kuch Kimlong, a spokesperson for the Phnom Penh Municipal Court where the charges were filed, said that the prosecutor had opted to charge the security guard under Article 42 of the Law on Disaster Management.
"He was questioned and sent to investigating judges," he said, declining to give more details.
Article 42 of the Law on Disaster Management pertains to "the deliberate act and violation of the regulation" of site administration in a disaster, meaning the 38-year-old security guard faces up to a year in prison and a maximum fine of 2 million riel—almost $500—if found guilty.
The government claims that the security guard helped four Chinese women to escape from the hotel while they were supposed to be quarantining for 14 days due to the ongoing COVID-19 pandemic.
Prime Minister Hun Sen said at the time that two of these women later tested positive for COVID-19 and subsequently could be a could be the source of the latest community outbreak that has, as of March 8, infected 501 people and spread through Phnom Penh, with cases being detected in Kandal, Preah Sihanouk, Kampong Thom, Kampong Cham, Prey Veng and Koh Kong provinces.
Related Articles