Court Prosecutor Denies Made-Up Conspiracy Theories in Kem Sokha's Trial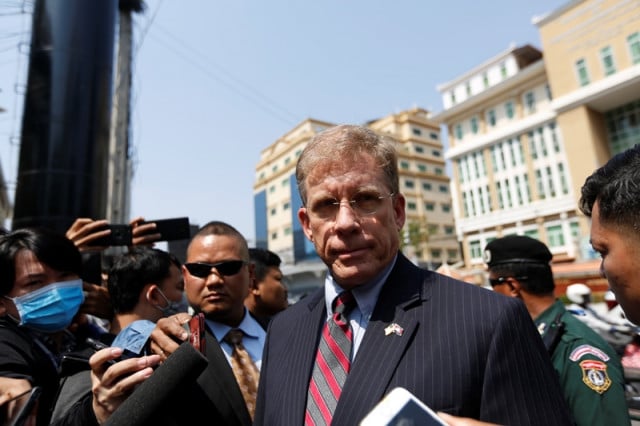 He was responding to the United States Embassy comments to that effect
PHNOM PENH – The Phnom Penh Municipal Court prosecutor Thursday afternoon denied comments made by the US Embassy to the effect that the prosecutor is fabricating conspiracy theories regarding the United States and former opposition leader Kem Sokha.
"During the treason trial concerning Kem Sokha accused of conspiring with foreign entities in accordance with article 443 of the Cambodian Criminal Code, the prosecutor did not accuse the US or foreign states or agents," the prosecutor's spokesperson said in a statement. "The prosecutor only accused Kem Sokha based on actual facts and law as well as sufficient criminal components in compliance with Cambodia's law."
This followed a statement posted earlier in the day on the US Embassy's Facebook page in which US Ambassador W. Patrick Murphy is quoted as saying, as he was leaving the court, "We're troubled to see prosecutors introduce fabricated conspiracy theories about the United States." The post also said, "Embassy staff have observed every day of proceedings for this trial."
The trial of Sokha, who headed the now-dissolved opposition Cambodia National Rescue Party, involves a charge of "conspiracy with foreign powers" brought against him by the Cambodian government whose proof includes videos of speeches he made abroad. If the court finds him guilty, he faces up to 30 years imprisonment.

In his statement Thursday afternoon, the prosecutor's spokesman noted that Cambodians as well as foreigners have been allowed to observe the trial.
Related Articles