Court Refuses Rong Chhun's Bid for Treatment in Thailand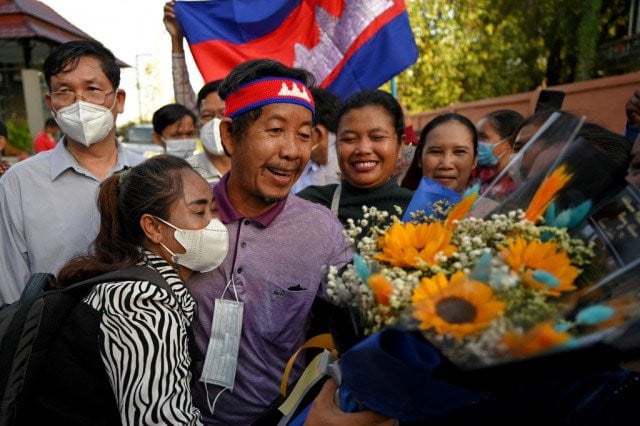 Prosecutors say activist should seek care domestically
PHNOM PENH--Phnom Penh Municipal Prosecutor's Office has rejected a request by labor rights activist Rong Chhun for permission to travel to Thailand for medical treatment.
Chhun had wanted to go for two weeks from Jan. 1 for treatment for his eyes, diabetes and other medical conditions. He said prosecutors told him to seek treatment domestically as much as possible before considering going abroad.
"We are disappointed, but we will not avoid anything. We dare to face everything. If the court summons us, we will cooperate," he said.
Chhun's right eye was injured when unknown assailants stormed a protest demanding improved benefits for workers. The date of the attack was uncertain.
He said the prosecutor said he would be considered for medical treatment abroad only if a government doctor said it was required.
He added that in his request to the prosecutor, he referred to a doctor's certificate from LICADHO which required him to seek treatment abroad.
Chhun, who is also president of the Cambodian Confederation of Unions, said that doctors' certificates at private hospitals or civil society organizations were not accepted by prosecutors.
He said he would try to find a doctor at a public hospital to get a certificate and that he would re-apply to prosecutors.
While in prison, his vision became blurred and he was taken to the Khmer-Soviet Friendship Hospital for treatment.
At that time, Chhun said he had almost no sight in his right eye so he decided to have surgery at the hospital.
Now he has about 80 percent sight in the eye after surgery but has blurred vision in his left eye.
Chhun was released from prison on Nov. 12 along with at least ten other activists but they are still under court supervision.
He was arrested in July 2020 at his home in Phnom Penh over a statement he made that some residents in the border area in Ponhea Krek district of Tbong Khmum province had lost their land to the Vietnamese and that Vietnamese authorities had moved into Cambodian territory. He claimed the statement was based on reports from the people.
He was jailed for nearly two years on charges of "incitement to cause serious disorder to social security."
Related Articles
November 14, 2023 2:05 PM