COVID-19 is "Alerting" the Cambodian Ministry of Agriculture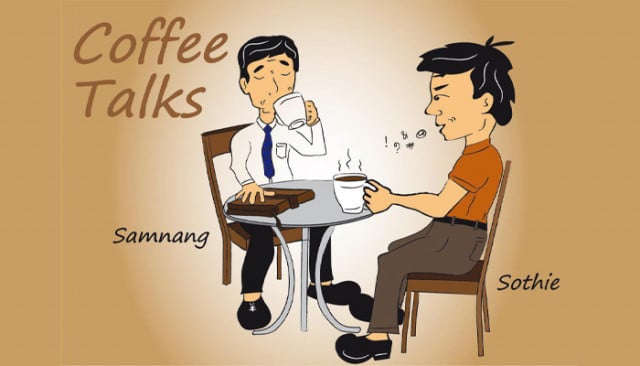 Thmey Thmey
April 11, 2020 4:40 AM
Taking some time off their work during the pandemic, Sothie and Samnang have been discussing at length the development of the Coronavirus Disease 2019 (COVID-19) pandemic and its ongoing effects on the health of people and the state of the nation's economy. This morning, the two pals were looking into the relation between the negative outcomes of the virus and the Cambodian agricultural sector.

Samnang: Sothie! The spread of COVID-19 has led some businesses to come to a halting point, or even worse, to face bankruptcy. Yet, I have noticed that food businesses have had lots of demand quite recently. What do you think?

Sothie: Yes, precisely. Who would want to buy a car right now? Or even a house? The priority is having enough food to sustain one's life. Eliminating requirements that are not urgent! The important thing is keeping enough fuel for the stomach.

Samnang: So, you mean agricultural countries like Cambodia are benefitting from this situation. Is that what you want to say?

Sothie: It depends. Have we produced enough agricultural products to sustain our local demand? Are there any surpluses that could be exported?

Samnang: Has Cambodia achieved the two objectives that you mentioned just now?

Sothie: By what I have read in reports, Cambodia still depends a lot on agricultural imports to sustain the daily demand of its own population. Those imports are vegetables, meat and fish. Cambodia also exports agricultural products, mostly rice. In short, Cambodia still depends on imports in spite of its own local production. We do not produce enough.

Samnang: Based on what you have said, Cambodia is not gaining any noticeable profit from this pandemic…

Sothie: Do not even try to mention the word "profit." Just try to figure out how to produce enough to meet the local demand. Like what I have mentioned earlier. Only if we could produce enough to reach a point of surplus, we would be able to say with confidence that the COVID-19 pandemic is a great opportunity for our agricultural sector, Cambodia already being an agricultural nation. But if we still rely heavily on imports, then this is not an opportunity we should be happy with.

Nevertheless, I have a feeling that COVID-19 is "tickling" the awareness of the Ministry of Agriculture in Cambodia. The awareness of promoting our country's agriculture and effective ways of supplying those agricultural products to the domestic market so as not to rely heavily on others. If we lack the capacity to produce domestic products and, somehow, the region has been struck by an alarming crisis—for example, COVID-19—and the neighboring countries decided to close their borders, what should we do? This is a very critical issue, Samnang! The Ministry of Agriculture has to look into this very seriously. Having nothing to eat? No, that is not going to work.
Side note: Annually, Cambodia spends no less than $200 million on the importation of agricultural products from neighboring countries. Cambodia imports 200 to 400 tons of vegetables daily from Vietnam in order to meet its domestic demand of 1,000 tons. At the present time, Cambodia is able to generate 500 to 600 tons of vegetables for its daily domestic demand. In that daily production, 20 to 30 per cent meet the GAP (Good Agricultural Practices) standard and another 10 per cent are organic produce.


Related Articles