COVID-19 Outbreak Shows No Sign of Slowing for Khmer New Year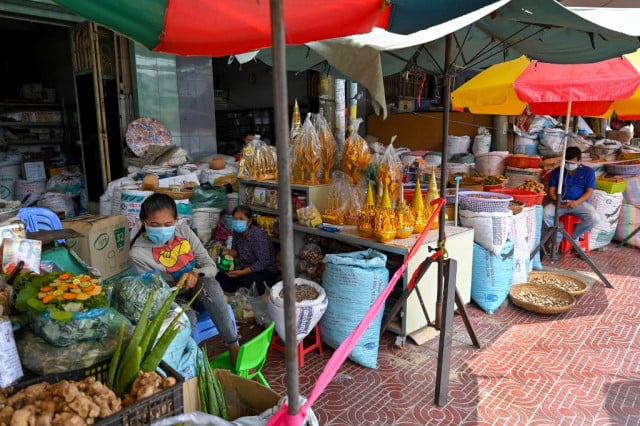 Phoung Vantha
April 14, 2021 5:13 AM
As Cambodians around the world celebrate the Moha Sangkran—the first day of Khmer New Year—the outbreak continues to surge in Phnom Penh and new cases were found around the country.
PHNOM PENH--The Ministry of Health's April 14 briefing showed another 177 locally transmitted COVID-19 cases had been found, along with one imported case that involved a Cambodian returning from Thailand.
Authorities also reported that two more people have died of COVID-19, bringing the death toll to 35, although the Health Ministry only released details for one of the death in which a 58-year-old man lost his life on April 13 due to COVID-19.
The new cases were again found mostly in Phnom Penh, where 149 new infections were reported. Kandal Province, which has not banned travel to the capital, recorded 14 new cases while Preah Sihanouk Province reported a further six COVID-19 cases.
Svay Rieng Province, where masks and social distancing were today made mandatory, reported three new COVID-19 cases and another two cases were found in Kampong Speu Province.
Takeo, Tbong Khmum and Siem Reap provinces all reported one new case each.
Today's imported case was found when a 47-year-old Cambodian man from Battambang Province returned to Cambodia on April 12. He came back from Thailand, where he had been working, and tested positive for the virus on his return.
However, a further 38 people have reportedly been discharged from hospital, according to the Health Ministry.
On April 14—the Moha Sangkran which represents the first day of Khmer New Year—Prime Minister Hun Sen called on Cambodians to celebrate at home rather than holding large parties for families and friends.
He wished all Cambodians good health for the 2021 Khmer New Year being celebrated from April 14-16, but urged them to stay home and stay safe.
"Do not leave the house if not absolutely necessary and you must always wear mask and wash your hands frequently with soap, hand gel, or alcohol," he said.
He continues to call on people to follow the Ministry of Health's guidelines persistently.
"Thank you, compatriots, for understanding the imposition of a temporary curfew on traveling through the provinces to prevent the spread of COVID-19 in the country," he said.
Ministry of Health spokesperson Or Vandine also urged people to stay home during the Khmer New Year celebrations by releasing a video.
"New Year at home for 2021! This year is the year we are working tirelessly day and night to get out from the COVID-19 box," she said. "It's not too late yet to act and respond together now to get our normal lives back and do not allow the virus to control us, we must control it now!"
Since the COVID-19 pandemic began, 4,874 people have contracted the virus, but 2,544 of these cases remain active as 2,295 people have recovered and 35 have died.
Related Articles