COVID-19 Vaccination: One Person out of Four in Phnom Penh Is Turned Away due to Health Issues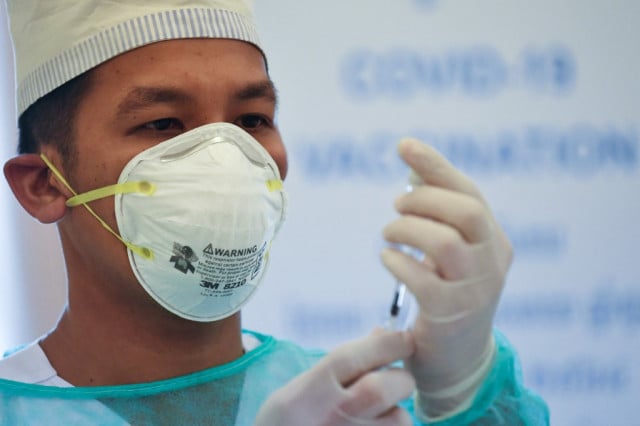 Phoung Vantha
February 12, 2021 9:01 AM
During the first two days of the vaccination campaign for government officials, 781 persons were inoculated in the capital
PHNOM PENH--More than 1,000 senior government officials and journalists registered to receive the Sinopharm COVID-19 vaccine during the first two days of the Cambodian government's vaccination campaign, which is taking place at four hospitals in Phnom Penh.
Among the 1,082 persons who registered, only 781 were vaccinated as the other 301 persons could not do so due to health issues, Ministry of Health spokeswoman Or Vandine said in a statement on Feb. 12. Those vaccinated will later return to receive their second dose of the 2-dose vaccine.
No information has been released at this point regarding the progress of the vaccination campaign among the Cambodian military forces.
Prime Minister Hun Sen and several senior government officials and provincial governors who had volunteered to be vaccinated were advised not to due to their age as the vaccine is recommended for people 18 to 59 years old. Vandine, who met the age requirement, was vaccinated on Feb. 10 and is in good health, she said.
Kuon Sambor, a Cambodia China Times journalist, said that he has not experienced any side effect since getting the vaccine. He added that, as the Chinese government has authorized the use of the Sinopharm COVID-19 vaccine throughout China and in other countries, he is confident that this is a good and efficient product. "I also believe in the [Cambodian] government's decision," he said, adding that he is due to receive the vaccine's second dose on March 3.
However, a woman who sells noodles at a market in Phnom Penh said that she would not dare being vaccinated due to her health condition.
"I trust [the vaccine] because the government does not import [low quality]," she said. "But I also do not trust it for myself, because I have diseases, and I…hear that people who have diseases cannot be injected."
The woman, who lives in Phsar Doeum Thkov Commune in Chamkar Mon District and preferred to remain anonymous, said that she had not discussed this with a medical doctor.
According to Vandine, the Ministry of Health intends to inoculate 149,500 people including healthcare workers and at-risk populations.
Related Articles