Covid Curbed Illegal Wild Meat Trade: Study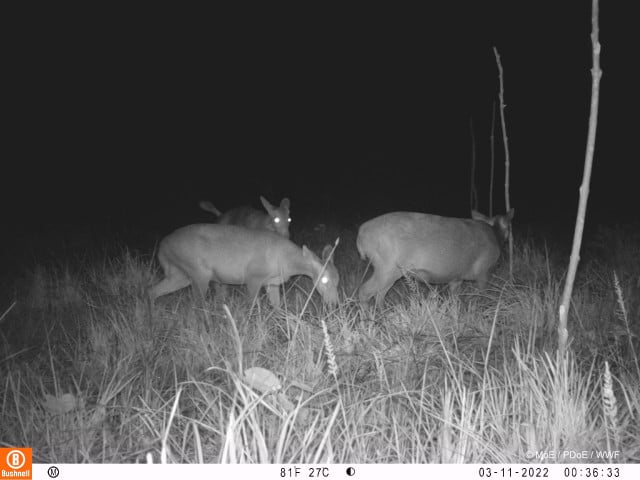 February 10, 2023 11:56 AM
PHNOM PENH – Illegal hunting of wildlife in Cambodia was reduced during the COVID-19 pandemic as travel restrictions limited the movement of middlemen traders, a new study suggests.
The study was published on Feb. 8 in the journal Conservation Science and Practice.
"We interviewed 109 hunters across Cambodia, Laos, and Vietnam about the impact COVID-19 had so far on them individually, as well as their communities," the authors say.
"We found economic impacts to be cited across all three countries, which in Vietnam pushed some young men into hunting for the first time; however, border and city closures was also believed to have made the act of trade more challenging.
"Overall, our results illustrate the importance of engendering stability and sustainability within forest-adjacent communities.
"In Cambodia, a reduction in wildlife trade was described, but so was an absence of any impact of the COVID-19 pandemic.
"Hunting likely persisted at a 'normal' level within the communities we conducted interviews in, but the opportunities for (potentially) more lucrative rural-to-urban and/or international trade were reduced.
"Within the communities we interviewed, it appears that Cambodia's strict border measures prohibited the middlemen traders who would ordinarily visit and purchase wildlife.
One individual told researchers about the hunting of protected pangolin.
"Before COVID-19, one kilo of pangolin was $500 but now it has decreased to only 100,000 riel ($25). Because of COVID, the price of wildmeat has decreased.
"King cobra used to get $200 for one kilo but now no one comes to buy.
"One district has one dealer who comes to buy but he needs to do it secretly because authorities will arrest him.
"The dealer continues to sell to Vietnam because Vietnam has a ship to take all kinds of wildlife to China."
Another villager said the number of hunters had been reduced because COVID-19 had affected people's finances, leading to no buyers.
"Last month, hunters from Kandal province came and asked to stay at my house for trapping wildlife but I was afraid of arrest so I ignored them," he said.
"They wanted to catch diverse wildlife. They take everything they catch. They will not use the normal snare traps but they would use electric shock equipment."
Pangolins have been suggested as an intermediate step when the virus was passed from animals to people.
One respondent said, "At first, I was afraid as I heard that it is transmitted by a pangolin, so that I dared not eat it. But other hunters who have eaten it did not have any problems. Then, I bought and ate it and I still feel normal."
Related Articles