COVID Effect Hits Rice Exports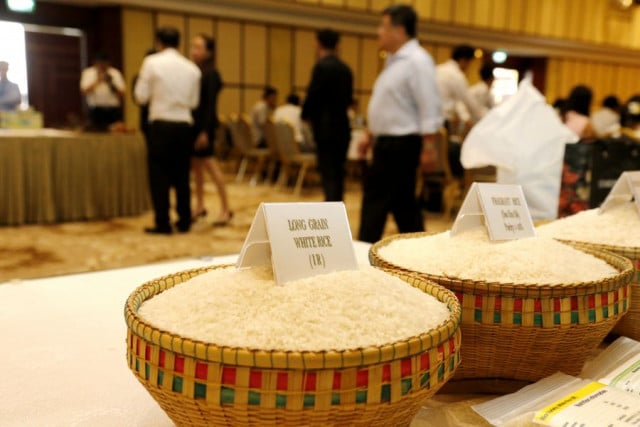 Minister sets out issues causing decline
PHNOM PENH--Cambodian rice exports plunged In the first nine months of this year due to higher shipping costs, a shortage of containers, reduced orders and declining demand for the fragrant variety, Agriculture Minister Veng Sakhon says.
Other agricultural products also faced export problems, an Agriculture Ministry report says.
Rice exports in the first nine months amounted to 410,698 tonnes, down 78,077 tonnes or 16 percent compared with 2020.
Veng Sakhon said four main reasons contributed to the decline of rice exports by the Cambodian Rice Federation.
He said a rise in shipping costs from $1,500 to between $7,000 and $8,000 per 20-foot container was a challenge for rice exports.
This affected orders as merchants waited for costs to drop before considering importing. Orders were only to supply immediate demand and not for stockpiling.
The container shortage is because many are stranded in EU ports and other sites due to the spread of COVID-19, which has congested the EU supply chain. A lack of workers and container truck drivers is another cause.
Another problem affecting rice exports is that transport companies are reducing shipments and giving priority to light cargo.
Cambodia needs about 350 to 400 containers on ships per week for shipments from the main port in Singapore to European Union ports, while currently there are only 100 to 150 containers for rice and other heavy goods exports.
The pandemic has caused the demand and price of fragrant rice to fall sharply from more than $800 to over $650 per tonne. About 80 percent of Cambodia's rice exports are fragrant rice.
China is the largest export market for Cambodia, importing about 200,000 out of more than 410,000 tonnes of rice Cambodia exports.
Cambodia exports 100,000 tonnes of rice to 22 countries in the European Union and more than 40,000 tonnes to seven ASEAN countries. More than 60,000 tonnes are exported to 23 other countries.
The reports says Cambodia exported more than 280,000 tonnes of fragrant rice, 70 percent of the total, more than 110,000 tonnes or 28 percent of white rice, and more than 7,000 tonnes or two percent of steamed rice.
Related Articles
December 17, 2022 6:00 PM