Creative Centre Springs from Nature Harmony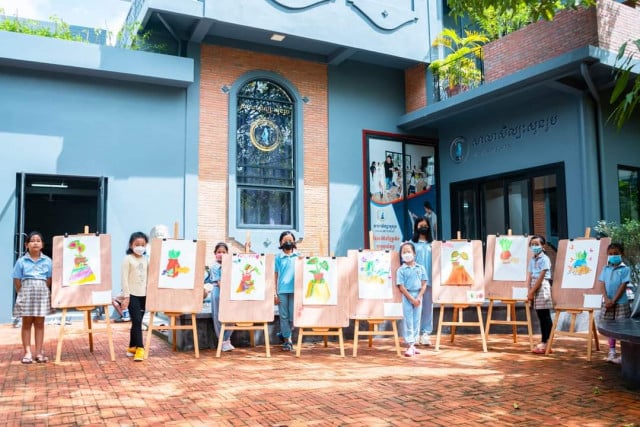 Blue Art Center, the base for an emerging Cambodian art school, grew from a small home on land on the outskirts of Siem Reap.
The compound now houses a sculpture workshop, studios and a bigger home designed by artists Yim Maline and Svay Sareth.
A waterfall leads to a short stream under a glass walkway and to a pool filled with fish, bringing nature to the couple's doorstep. It's a theme reflected in Maline's artworks.
A banyan tree in the garden is a link with Sareth's childhood as a refugee. He brought it as a young plant from Site II refugee camp on the Thai-Cambodia border where he lived with his family.
Maline says, "I like the landscaping bringing nature close to me. You see all the plants here... I grew them.
"For example, when I have a residency, I spend time going to the forest to observe nature and how different countries have different nature.
"It is really important to support my art because my art needs a lot of light and shade and the concept of the spirit of nature. In Japan also it is different. And the shape is also important.
"For example when I had the idea of decomposition as a title I used raw material.
"Why? I grew up with nothing so I need to create something from nothing and put my spirit into the work. I find some objects around the village like cartons and wood.
"For example, I brought some cardboard and I glued it. You could see the layers. I put charcoal on the cardboard and it burned into a different shape. You cannot control the shape... something like nature," Maline said.
"When I make artwork I feel happy and unhappy. Why unhappy? Because some people do not understand the beauty of nature. They burn the beauty of nature.
"For me, I think nature can heal people. Sometimes people go somewhere they can breathe the air. When I make artwork with nature I am very happy and really enjoy my work."
The first students started last month, just on Saturdays.
Maline says, "Maybe I can show them the way because I can see their minds. I can guide them. When I teach them I like them to use their knowledge and touch the materials and the different textures.
"I don't want to make them like me or like you or like another artist.
"They have different ideas, so we need to guide them differently. This is very important to be an artist.
"When I studied art in Cambodia when I was young, the teachers didn't understand this but when I studied in France I understood. Don't teach the student to be like the teacher.
"Maybe I can show them the way because I can see their minds."
As a child, Maline dreamed of being an artist but being from a poor family in Battambang it was a struggle without a scholarship.
"I just worked hard in the vegetable farm and got some money until I finshed school," she said.
After studying at the city's Phare Ponleu Selpak art school from 1995–2003, she completed her degree in art at the Ecole Superieure des Beaux-arts in the French city of Caen.
Maline has had residencies in Europe, Japan, the US and South Africa and exhibitions in Japan and Australia.
Her wish to create, with Sareth, an art school was inspired in part when she saw small children around the temples in Siem Reap. They did not go to school because they were selling souvenirs to tourists. "I thought it was not good," she said.
Related Articles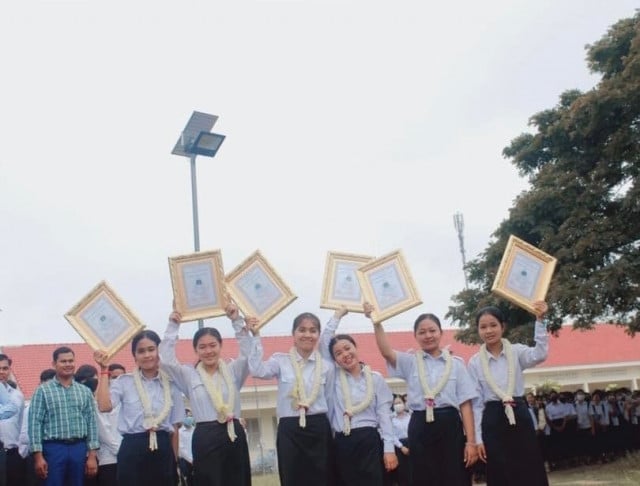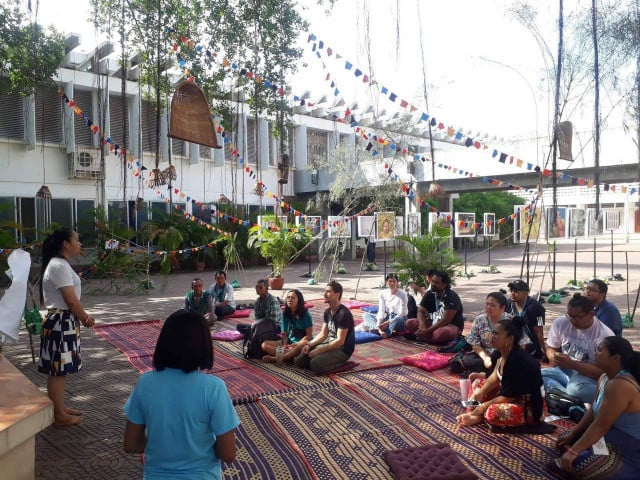 November 27, 2019 4:53 AM