Cruise Ship Passengers Still in Cambodia Free to Travel in Sihanoukville, says Government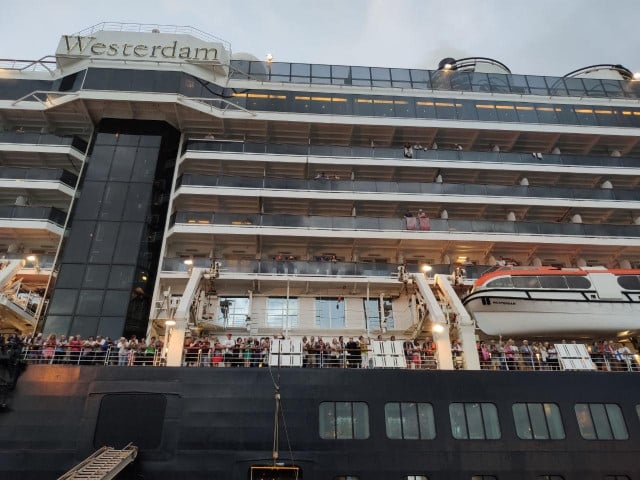 Phoung Vantha
February 17, 2020 4:24 AM
Some 233 passengers and 747 of the MS Westerdam cruise ship have been allowed to travel throughout Sihanoukville province after testing negative for the novel coronavirus, despite concerns over the efficacy of the tests.
PHNOM PENH--Releasing a statement via Facebook, the Royal Government Spokesperson Unit on Monday said that all passengers aboard the MS Westerdam cruise ship are free to travel in Sihanoukville province. The cruise ship, denied entrance to Thailand, Japan, Taiwan, Guam and the Philippines, was allowed to dock in Sihanoukville on Feb. 13.
Ly Sovann, a spokesman for the Ministry of Health who was quoted by the Royal Government Spokesperson Unit, said that that both the passengers and crew of the MS Westerdam are considered a low risk for exposure to COVID-19 infection.
He continued that more than 200 travelers of MS Westerdam can travel in Sihanoukville as they have passed a thorough medical examination with no problems.
Kheang Phearum spokesman of Sihanoukville Monday said that 233 passengers and 747 crews are remaining on Westerdam.
Holland America Line, the owners of the MS Westerdam cruise on Sunday said that all the passengers and crew are healthy.
"At this time, no other guests or crew, either on board or on their way home, have reported any symptoms of the illness," a press release from the cruise line said, adding that "Guests who have already returned home will be contacted by their local health department and be provided further information."
On Feb. 14, the Cambodian authorities let passengers off the ship after testing for the 2019 Novel Coronavirus (2019-nCoV) including 20 passengers who had been unwell according to the medical staff on board. Tests conducted proved negative for the virus and the ship's passengers and crew were left free to leave.
An 83-year-old American woman who disembarked from the Westerdam has since tested positive for the new coronavirus in Kuala Lumpur, Malaysia. After the passenger's initial positive test results prompted the Cambodian health ministry to seek a second test, Malaysia's Deputy Prime Minister Dr Wan Azizah Wan Ismail dismissed accusations of false testing and confirmed that the woman had tested positive for the virus a second time.
A Holland America Line press release on Monday announced the cancellation of a 14-day cruise around Japan scheduled for Feb. 29, "out of an abundance of caution." The statement goes on to say that the cruise line will be monitoring the COVID-19 situation to assess further cancellations beyond Feb. 29 and will be providing full refunds to all customers affected.


Related Articles