Culture Ministry to Investigate "Angkor Wat 2" Under Construction in Thailand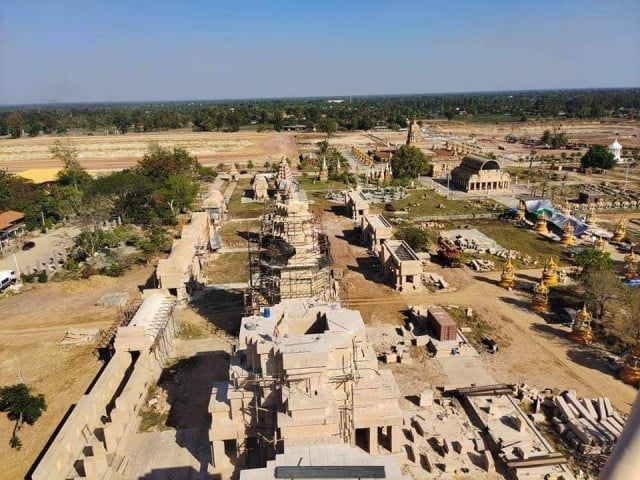 After images of the planned temple being built in Thailand, many observers noted that it looked strikingly similar to Angkor Wat—now the Ministry of Culture is investigating to find out more
PHNOM PENH--The Ministry of Culture and Fine Arts announced on July 6 that it would be investigating Thailand's plans to build a temple modeled after Angkor Wat temples.
Images of the Sihanakorn Temple, as it has been dubbed in Thailand, circulated on social media after they were initially posted by a Facebook user named Borannachar "Archaeologist" saying the project was "Angkor Wat 2," leading to outcries from Cambodian netizens.
Borannachar's Facebook post continued, saying that Thailand held its first groundbreaking ceremony on April 5, 2021, in the area of Wat Phu Man Pha Phaya Chang Rang, Ban Nong Bura village, Ban Sing commune, Neang Rang district, Borei Rom province, Thailand.
The project is reportedly scheduled to be completed in the next seven to eight years.
"We have provided you with a sample of the temple and the layout of the temple that will start construction soon, as well as a picture of the top three temples that have already been built and will be completed soon," Borannachar's Facebook post said.
Ministry of Culture and Fine Arts spokesman Long Ponnasirivath said that the ministry is studying and gathering specific information regarding the temple, which he said looks to be an imitation of the Khmer temples of Angkor Wat.
"We cannot yet determine whether the research will be completed in the next few weeks," he said, adding that the Cambodian Embassy in Thailand has been enlisted to find out more and report back.
The Apsara Authority responsible for managing the real Angkor Wat has emailed the construction company to ask them to provide the specific construction plans for study.
"If we get any information, we will confirm it later," Ponnasirivath said, noting that so far it does appear that Thailand is copying Cambodia's famous Angkor Wat temples.
The investigation, he said, would determine whether this would need to be resolved through diplomatic channels.
"We contacted Ministry of Foreign Affairs by sending an official letter to the Thai government through the Thai Embassy in Cambodia to resolve issues as we may have encountered in the past," he said, reiterating that no diplomatic action would be taken until more facts were provided.
Angkor Wat has long been the crown of Cambodia's tourism industry, drawing millions of tourists from around the world each year, but the COVID-19 pandemic has seen international arrivals plummet by as much as 99 percent. To this end, both Cambodia and Thailand's economies—both of which are heavily reliant on tourism—have been disastrously affected by restrictions imposed to slow the spread of the pandemic.
Authorities have previously suggested that as much as 90 percent of Siem Reap Province's tourism businesses have been shuttered since the pandemic began in early 2020, but even Angkor Wat's reopening in April 2021 has done little to make up for tourism losses due to COVID-19.
But this isn't the first time that the Ministry of Culture and Fine Arts has confronted Thailand over the use of Angkor Wat's image. In October 2020, an investigation was launched by the ministry after images of Angkor Wat featured in Thai film called "The Promise" prompting Cambodian authorities to question whether the Thai filmmakers had the rights to use Angkor Wat's image.
This was just a month after an Australian tourism company used images of Angkor Wat to advertise Vietnam, enraging many Cambodians in the process and earning an official reprimand from the Ministry of Culture and Fine Arts in September 2020.

Additional reporting by Phoung Vantha.
Related Articles