Cut and Thrust of Debate Gives Young an Edge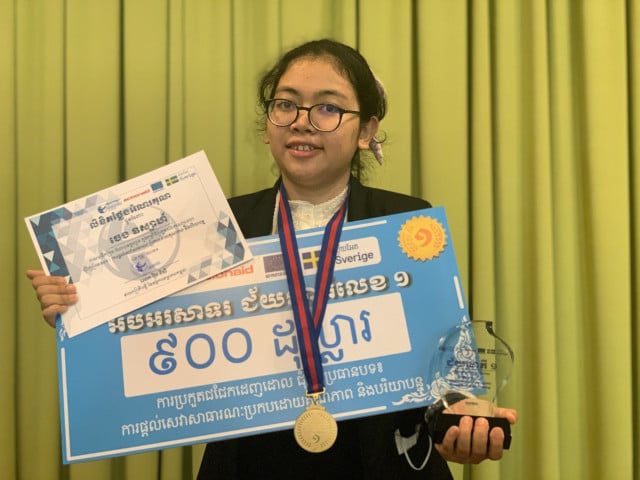 Phnom Penh – Debating competitions have spread in recent years, especially among university students. Organised by government agencies, NGOs, the private sector or even young people themselves, these debates let students polish their public speaking and analytical thinking while building networks. Cheng Ousa, a co-founder of the Khemara English Debate Society (KEDS), spoke about running the Rookie Debate Competition on Oct. 22 and 23, involving 14 school teams.
Ky Chamna: Despite all the work, why are you and your teammates passionate in creating this debate competition?
Cheng Ousa: There are several reasons. We want to introduce debating skills to students who have never debated before or have very little debating exposure. KEDS is a youth-led initiative aiming to promote the debating culture among youth in Cambodia. We saw little to no chances for secondary students and high school students to be exposed to debating and this is why we wanted to do a rookie debate competition.
Second, we want to promote critical thinking and communication skills among students as debates, like a sport, require each debater to think and put forward their stance.
Third, we want to provide a platform for teenagers to experience debating and express their ideas when it comes to different topics. The benefit here is two-fold as our debaters get a chance to showcase their debating skills and their knowledge of world issues.
Therefore, we believe that our competition contributed to the promotion of debate culture in Cambodia as our debaters really enjoyed the event.
Ky Chamna: What are some of the challenges that you face along the way? Before and during the competition?
Cheng Ousa: There were many challenges for us and our team never thought we would pull it off this well. I would say it was beyond our expectations. The fact that my team is not physically close to one another made it difficult to communicate as well. Two of our teammates are in other countries; however, this does not stop us from achieving our goal of promoting debating culture in Cambodia.
Before the event, we had two main issues. One was a problem with scheduling. We try to squeeze in the most appropriate time for our debaters as we need to consider many events such as Halloween, the World's Scholar Cup as well as our own training time. We had to make sure that we finished this event by this month so that it would not affect our timeline.
Finding sponsors can also be a challenge. We sent out many proposals to many associations and groups. Sometimes, there was no immediate response. So, we got very nervous about this. Fortunately, several NGO and private entities got back to us.
During the event, we also had two big challenges.
First, there was arranging the event. This is our first time running a big event with almost 100 people including debaters, judges, and volunteers. We had to make sure that there was food on time and that the competition did not run late.
Second was communication with different people. We had to communicate with food providers, sponsors, flower providers, and many more. I must say it was very tiring. Regardless, it was fun to see the smiles on our debaters, judges and volunteers' faces as the tournament continued.
Ky Chamna: For those young learners to join, what are your criteria in selecting candidates for the debate?
Cheng Ousa: Several points are required. To begin with, you have to be enrolled in Grade 7 to Grade 12. The reason is we want these secondary school students and high school students to know how to debate. One team consists of three members. We are using the World Schools debate format and having three members is a must. Each debater should never jump from the elimination round or preliminary round to the quarter final round. This is important as our tournament was aimed for rookie debaters.
Entrants should be dedicated to the program and willing to learn more about debating. Debate is an exhausting sport that requires patience and commitment. Students who know very little about debating are highly encouraged to apply.
Ky Chamna: As a debater and a teacher yourself who had joined a lot of debating competitions in the past, how do you feel working with young debaters from junior high or high school?
Cheng Ousa: It was very enjoyable and fun. These kids already have a good command of English, so they do not struggle with languages. Moreover, students nowadays have good digital skills and they can find information online.
What we need to push more are the thinking strategies that they can use to analyse the debate motion. One more thing that I want to highlight is that the debating community in Cambodia is relatively small. The debaters also know each other as well which helps with their interaction and communication.
Ky Chamna: After all those initial screenings, training, preparing, running and evaluating the competition, what do you hope to achieve from his program?
Cheng Ousa: We hope that many teenagers will be more interested in debating and be aware of more issues around Cambodia, the region and the world. Debating is a personal skill that everyone must have to make decisions in life. Moreover, female students really need to know how to debate so that they can make a point and make their voice heard in many situations because females are still considered an inferior group in society, and debating will give them the skills they needs to defend their ideas and stance.
Ky Chamna: Your first project is also completed and the winner has been announced. Will there be more events like this from your KEDS team for future students?
Cheng Ousa: Yes definitely. We will continue to do many different events so that Cambodian teenagers, youths and adults will know about the debates. By doing these activities, we will undoubtedly contribute to the promotion of debating culture in Cambodia. Our next step is to recruit a development squad team so that they can be prepared for different international tournaments in an online setting and physical setting. Together with KEDS, we are walking toward a debate-friendly society.
Related Articles