Dance Sports Target Strengths for SEA Games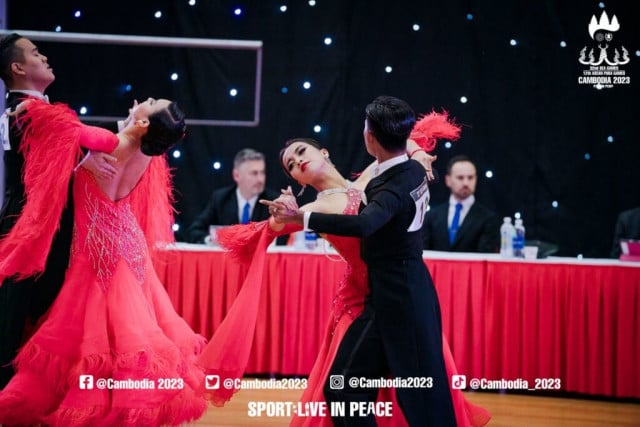 PHNOM PENH – The Dance Sports Federation of Cambodia has identified 14 disciplines that could win medals at the SEA Games 2023 in Cambodia.
Federation secretary-general Hang Simon told the Cambodia 2023 media team the disciplines had been picked in line with set goals and clear plans.
She said that after the SEA Games mission in Vietnam, the number of athletes had increased significantly compared with the 2019 SEA Games in the Philippines.
Twelve of the disciplines were in the Latin and standard dance categories with two in the break dance categories.
Simon said all these disciplines have a high potential for medals as the federation has a clear plan to require Latin dance athletes to practice only Latin dance, while standard dancers train only for standard dance and break dancers for break dance, thus ensuring better preparations.
The federation plans to send athletes to train in China in the next few weeks through the Asian Dance Sport Federation, which provides accommodation and food for two months. After this training in China, the federation plans to ask senior coaches to coach the national team.
Simon said that by training abroad and having high-level coaches, as well as many national and international competitions, the federation has high hopes of winning medals in latin dance, jive, paso doble, cha-cha and samba.
Standard dance has slow foxtrot, quick step, break dance. There are high hopes for this because it is an Olympic discipline and Cambodia has a lot of clubs and resources.
Simon said the federation is also paying attention to the referees and technical officers to prepare for the SEA Games by running training courses for judges to prepare for the national championships in October and participate in international competitions.
The federation is preparing 10 athletes, five male and five female, for the SEA Games which will be held from May 5 to 16 in Phnom Penh. The aim is to win one gold medal for Cambodia.
Related Articles