DC-Cam – Today's Projects to Deal with the Past reaching out throughout the country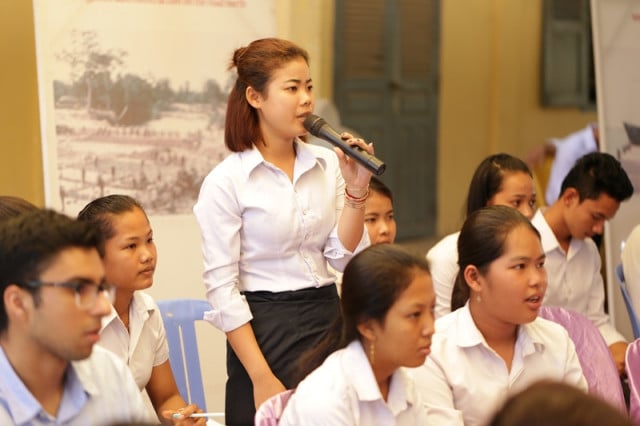 As anyone who has been victim of a crime will tell, the pain and sense of loss does not stop because the person who ordered or committed the crime was found guilty.

Or is dead.
This is why the work of the Documentation Center of Cambodia (DC-Cam) continues today not only for those who lived through the Khmer Rouge regime that devastated the country but also for their children and grandchildren who must cope with the lingering consequences.
''My focus has been a grassroot approach from the beginning," said Youk Chhang, executive director of DC-Cam.
This has taken different forms over the decades.
Adapting to people's needs
When he set up the Cambodian Genocide Program in 1994, the country was just starting to recover from the Khmer Rouge regime and the decade of war that followed its fall in January 1979. Terrorist attacks by the Khmer Rouge were still taking place in some parts of the country. It is only in December 1998 with the surrender of the Khmer Rouge leaders that the state of war would truly end.
DC-Cam, which became an NGO in 1997, started touring towns and villages to document Khmer Rouge crimes that had caused the death of more than 2 million people in less than four years.
"I think that, by now, we have been in at least 7,000 villages, physically," Chhang said. "In those villages, we conduct interviews, we collect evidence, we identify mass graves, we help the survivors who are senior citizens, we conduct work on minorities, Islam, the Buddhist: Basically a grassroot research approach."
One of the goals has been to help provide evidence for the Extraordinary Chambers in the Courts of Cambodia (ECCC), also known as the Khmer Rouge Tribunal, during which several leaders of the regime were tried and found guilty.
"In all those villages visited," Chhang said, "we managed to collect documents and testimonies. We have identified over 20,000 mass graves [whose location and data] we have actually provided to the ECCC for the court cases."
Prompting dialogue between generations
Teacher Conference on Genocide Education and Teaching methodology in Preah Vihear Province. Photo credit: Documentation Center of Cambodia Archives

However, the tribunal has been but one element of healing, of giving a voice to those whose lives were shattered because they were victims or had joined the Khmer Rouge willingly or not. And then there are their children and grandchildren who have had to cope with their silence, all the stories that people who lived through that era rarely share.
Hence the importance DC-Cam gives to openly discussing the regime.
This year, DC-Cam's work has involved holding in Phnom Penh and the provinces the play "Breaking the Silence" in which both former Khmer Rouge and victims talk. Conceived and directed by Dutch director Annemarie Prins and staged and performed in Khmer by Amrita Performing Arts, the play features both former Khmer Rouge and victims who speak of their lives during those years and the remorse or pain with which they still struggle.
A struggle that today's youth may understand better than one thinks.
"In Battambang, when we performed 'Breaking the Silence,' for history teachers—400 or 500 of them—after the performance, we asked if anyone had any question," Chhang said. "One young female teacher, about 21 years old, stood up: She spoke about 10 or 12 minutes, summarizing the entire show with no mistake.
"There were no other question because she summarized the whole thing…a whole play of one hour in less than 10 minutes," he said. "So the quality is very high, you know. I observe everywhere we work with pre-service teachers. They know a lot. But they don't know yet how to put this into context."
And this is where access to information comes in.
Regional archive centers
Before and during the Khmer Rouge Tribunal, DC-Cam's work has very much involved collecting testimonies and data for the tribunal, which led to providing, between 2006 and 2010, 500,000 copies of documents from its archive and funding the acquisition of 650 books, 1,955 CDs and DVDs of films and photos, plus 524 microfilm reels.
Today, its focus is very much about giving people throughout the country access to that information: people of all ages as well as teachers and local authorities who want to know more about the era. This has led to DC-Cam creating regional centers where everyone can look at archives kept in its Phnom Penh office, browse through books written on the subject, attend talks or take part in discussions.
The first one to open was Anlong Veng Peace Center located in the last stronghold of the Khmer Rouge. "All of these years, there has been a prejudice against them [living in that area]…and it has bothered me," Chhang said, as no one should be judged without being heard.
DC-Cam's second regional center is the Veal Veng Reconciliation Center in Pursat Province. The third one is in Preah Veng Province near the Vietnamese border: "We want to understand how the Khmer Rouge came into power and how they collapsed, and that Eastern Zone is the key zone," Chhang said.
The fourth office will be the Takeo Documentation Center in the area that was the Khmer Rouge western zone. The next ones will be located in Kompong Cham City, Battambang City and Kandal District in Kandal Province.
Preparing the era's legacy
DC-Cam's other projects include training programs for history teachers in public schools and working with the Ministry of Education, Youth and Sport to prepare and update material required to teach the Khmer Rouge regime.
Because no matter what, that period cannot be erased. "What do you want to leave behind for our children…What do you want to leave behind for the world to understand what happened to us 40 years ago," Chhang said. "And that is what I mean by negotiating memory."
A memory that must be put in a Cambodian context, he said.
Fifteen of the truth commissions that were set up around the world following genocides or mass killings were set in a Christian context with the notions of confession, forgiveness and redemption, Chhang said.
In Cambodia, he said, "We are not Christian. So what are people the most attached to: It's Buddha's teaching."
So for the country, teaching and studying the Khmer Rouge period becomes an approach leading to reconciliation in a Buddhist context, he added.
Youk Chhang with a statue of the Buddha

Related Articles