Death of Nuon Chea: the End of a Convicted Felon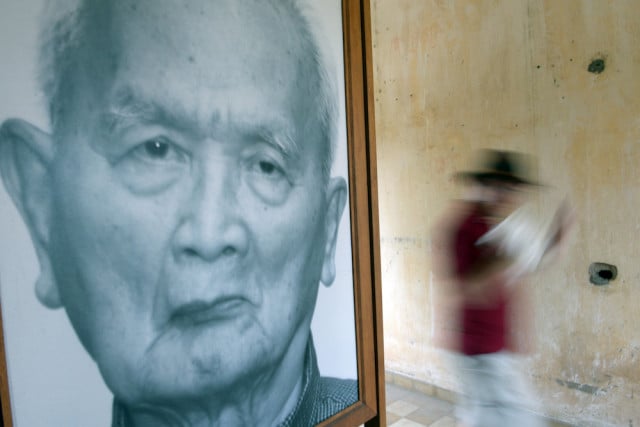 Lim Tola
August 18, 2019 8:21 AM
Found guilty of crimes against Humanity. Found guilty of genocide.

Nuon Chea, one of Cambodia's absolute masters during the Khmer Rouge regime, has left the world of the living carrying on his shoulders the weight of his crimes recognized as such and condemned by human justice.

At the Khmer Rouge Tribunal in front of which he appeared over the course of several long years, the man denied the very existence of those crimes against Humanity or genocide, blaming the deaths on the war going on at the time.
But above all, he proclaimed that he was not responsible for those crimes. Being at the very top of the power structure, he knew nothing, he claimed, of his subordinates' actions.
And yet, described by Kaing Guek Eav—also known as Duch— as his immediate superior when he was director of the execution center S-21 in Phnom Penh during the regime, Nuon Chea would keep on denying this, maintaining a comfortable silence during the proceedings.
In order to keep his head high in spite of the sea of blood that will forever remain the indelible mark of his exercise of power in Cambodia, the old man would not miss an opportunity to show his patriotism and love of justice that were his ideals in his youth.
But Justice—the one that takes the time to listen to victims, prosecution and defense witnesses, civil-party attorneys, prosecutors and defense attorneys—rendered its verdict:
Nuon Chea is guilty of crimes against Humanity, guilty of the crime of genocide. When he wanted to implement his ideals in Cambodia, Nuon Chea did not had the same notion of justice.
In the documentary film "Enemies of the People" (*), he justified, with no regrets whatsoever, the mass executions perpetrated by the Khmer Rouge.
"Those criminals impossible to reeducate…were killed and destroyed," he says in the documentary. "If we had let them live, the party line would have been distorted. They were enemies of the people."
Forty years later, at the end of 10 years of trial, justice, to which those who perished during the Khmer Rouge regime never had a right, has enabled all your victims to say:
Nuon Chea, the enemy of the people was you.
* The 2009 documentary film "Enemies of the people" co-directed by Cambodian journalist Thet Sambath and British film director Rob Lemkin.
Related Articles