Death toll from building collapse rises to 25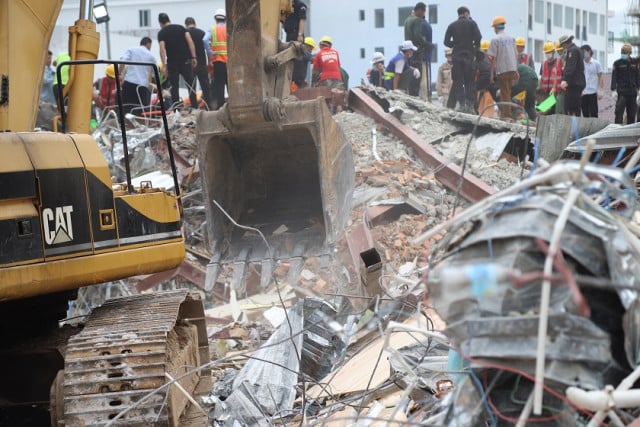 Thmey Thmey
June 24, 2019 4:32 AM
In response to Hun Sen call, tycoons offer more than $1 million in donations to victims and families

PHNOM PENH --As rescue efforts entered their third day, the death toll from the collapse of a Chinese building in Sihanoukville rose to 25 on Monday, officials said.
Twenty-four people were also injured when the unauthorized seven-storey building collapsed at around 4 a.m. on Saturday.
With up to 60 people believed to be sleeping in the building at the time, it was feared that many remained trapped under construction debris.
The toll is expected to rise.
Provincial officials said the unauthorized building was owned by a Chinese national identified as Chen Kun who leased the land from a Cambodian.
The Chinese companies responsible for the construction were Xi Gang Tang Gong Gou Ji Haisao and an unidentified contractor whose staff were arrested after the collapse.
Chinese Embassy expresses regret
In a condolence letter to the families of the victims on Sunday, the Chinese Embassy said it "hopes for a speedy recovery for all of those injured in the accident."
"The embassy supports a thorough investigation of the accident and necessary measures by competent Cambodian authorities in accordance with the law," it said.
More than $1 mln raised as Hun Sen seeks donations
On his return from an ASEAN Summit in Bangkok on Sunday, Prime Minister Hun Sen traveled to Sihanoukville to inspect the accident site and rescue operations.
He urged philanthropists to donate money to support the victim's families, raising more than $1 million from several Cambodian tycoons in less than an hour.
Government assistance announced by Hun Sen in Bangkok on Saturday comprises $10,000 to each family of the deceased and $1,250 plus free medical treatment for the injured.
Related Articles