Death Toll from Flooding Rises to 43 in Cambodia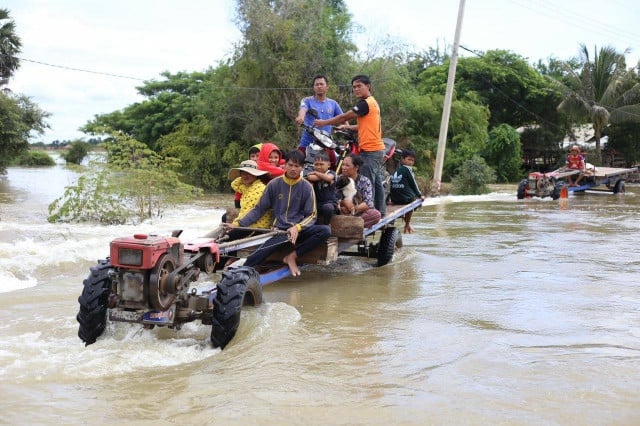 Phoung Vantha
October 27, 2020 5:57 AM
Nearly 600,000 Cambodians across 20 provinces have been affected by flooding, according to the National Committee for Disaster Management.
PHNOM PENH--The death toll from floods in Cambodia has risen to 43, with an estimated 594,388 people having been affected by the floodwaters, according to the National Committee for Disaster Management's (NCDM) Oct. 27 report. A further 47,580 people have been evacuated as flooding hit 20 provinces throughout the country over the course of the month.
The NCDM estimated that 133,203 homes have been affected, but only 63 are reported as damaged. Meanwhile 951 schools and 307 pagodas nationwide have been affected, along with 270,000 hectares of rice and nearly 100,000 hectares of other crops. The report also highlighted further damage to thousands of kilometers of critical infrastructure such as roads and bridges.
The report noted that the 20 provinces and municipalities affected include Pursat, Pailin, Banteay Meanchey, Phnom Penh, Battambang, Svay Rieng, Tbong Khmum, Oddar Meanchey, Siem Reap, Takeo, Kampong Speu, Mondulkiri, Sihanoukville, Koh Kong, Preah Vihear, Stung Treng, Kampong Cham, Kandal, Kampong Chhnang and Kampong Thom.
The Ministry of Water Resources and Meteorology on Oct. 26 has issued a warning that the 18th storm "Molave" is expected to hit Cambodia from Oct. 28 to 29 and will likely cause heavy rain across nine provinces, including, Ratanakiri, Stung Treng, Preah Vihear, Oddar Meanchey, Kampong Thom, Siem Reap, Banteay Meanchey, Pailin and Battambang .
The ministry called on people to remain vigilant to avoid any possible accidents, but the death toll continues to rise—even as the floodwaters began to recede in parts of the country.
Prime Minister Hun Sen on Oct. 26 ordered four ministers to swiftly assess the damage done by floods and repair affected infrastructure. He instructed them to help peopled affected by flooding and warned that he will follow their response closely.
Related Articles