Defamation Cases End as Son Chhay Loses Supreme Court Appeal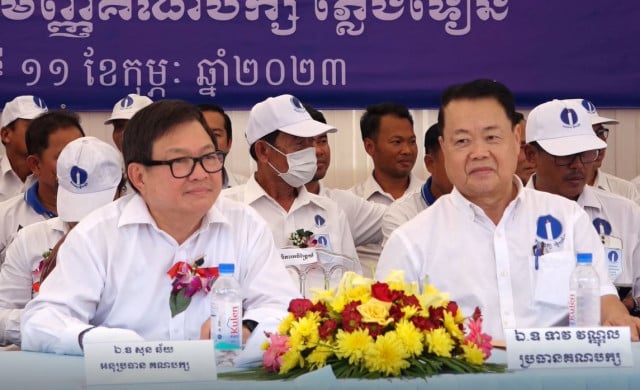 PHNOM PENH – Candlelight Party vice president Son Chhay has lost his final appeal after losing defamation cases brought by the Cambodian People's Party (CPP) and the National Election Committee (NEC).
The Supreme Court upheld the verdict of the Court of Appeal on Feb. 23. Son Chhay's lawyer Ket Khy said they had no way to take the case further because the Supreme Court decision had ended the appeal process.
The Supreme Court will transfer the case to the Phnom Penh Municipal Court to deal with it. Khy said all there was left to do was to wait.
"We, the lawyers and Son Chhay, objected using everything we had, and the Supreme Court still made this judgment. We don't know what else to say," Khy said.
In June last year, Son Chhay was sued by the CPP which accused him of criticizing the June 5 commune election in an interview with the Cambodia Daily.
In the interview, he said the election results "did not reflect the true will of the people and the NEC was not independent in conducting the June 5 election."
Son Chhay was also accused of public defamation and sued by the NEC, who said his statement was unacceptable, disrespectful and damaging to voter values. It demanded a public apology while leaving compensation for the court to decide.
Son Chhay lost both cases. He filed a complaint lawsuit to the Supreme Court after losing in the Phnom Penh Municipal Court and the Court of Appeal. Losing the appeals increased his damages liability.
At first, Phnom Penh Municipal Court decided Son Chhay should pay about $730,000 to the CPP and nine million riel (nearly $2,200) to the NEC.
In December, the Appeal Court upheld the verdicts and increased the damages for the CPP to four billion riel (nearly $1 million), and 10 million riel (approximately $2,400) to the NEC.
Seeing Son Chhay's unwillingness to pay the plaintiffs, the Phnom Penh Municipal Court seized two of his houses, one in Phnom Penh and the other in Siem Reap province.
Related Articles