Defense Minister Tea Banh Healthy 20 Days after Sinopharm Vaccination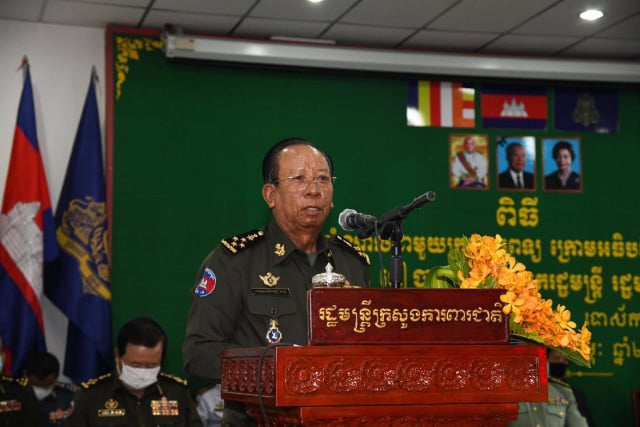 Phoung Vantha
February 10, 2021 10:37 AM
The 75-year-old Defense Minister said he will talk to Prime Minister Hun Sen about the prospect of inoculating military personnel over the age of 60 with Sinopharm vaccine, adding that he remains healthy.
PHNOM PENH--Minister of National Defense Tea Banh said on Feb. 10 that he's healthy after receiving the Sinopharm COVID-19 vaccine nearly a month ago.
Speaking during the vaccination campaign for army leadership at Preah Ket Mealea Hospital in Phnom Penh on Wednesday afternoon, Banh confirmed he is healthy and has not experienced any side effects since being vaccinated.
"As of today, I have been vaccinated for 20 days, in another 10 it will have been a month," he said. "Some people were vaccinated before me as a test and the results showed that [the Sinopharm vaccine] is good quality, efficient and safe—there was no problem, so I got vaccinated."
He went on to detail the doctor's orders for him to avoid seafood, alcohol and take three days of rest after being vaccinated.
Commander in Chief of the Royal Cambodian Armed Forces Vong Pisen, along with Deputy Commander-in-Chief of the Royal Cambodian Armed Forces, and Commander of the National Gendarmerie, as well as other senior officers were all vaccinated on live television on Feb. 10.
Banh said that he plans to vaccinate armed forces personnel along Cambodia's borders soon.
While Prime Minister Hun Sen has declined the Sinopharm vaccine due to being over the age of 60, Banh, 75, said he intends to discuss vaccinating army officers over the age of 60 with Hun Sen as he is confident that there is no health risks. He added that army officers over the age of 60 also want to be vaccinated against COVID-19.
As Cambodia's vaccination program began in earnest, Hun Sen took to Facebook to reassure people over the quality of the Sinopharm vaccine. The manufacturer—a Chinese state owned enterprise based in Beijing—has claimed that the vaccine has a 79.6 percent efficacy.
Hun Sen told Cambodians not to worry about the vaccine's brand or country of origins, but rather they should worry about not being vaccinated. He then said that vaccines would not be sold in Cambodian markets the way that fish and morning glory are.
Related Articles